Bas Jacobs (Underware): Keep It Straight– One Day Workshop

Tuesday, June 5, 2012 from 8:30 AM to 4:30 PM (EDT)
Event Details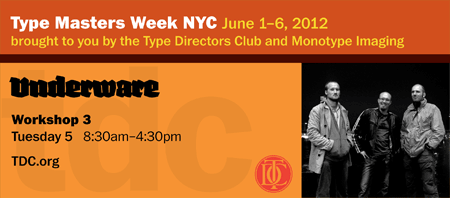 If you think you've got enough energy to be part of this internet-free ants' nest for one day, you'll experience that type design can be a thrilling experience if everybody kicks the same ass. We're gonna make 1 font together, and that can be as electrifying as Sylvester Stallone in a B-movie. Especially when there are 20 captains on board and when the real KISS principle will be executed: Keep It Straight, Stupid.
Requirements (What to bring)
Some scissors and pens/pencils. But mostly: put on old clothes!
About the instructor
(Bas Jacobs) Underware is a pan-European design collective that has been creating versatile fonts for more than ten years, blazing its own trail in the design world. The company was founded in 1999 by Akiem Helmling, Bas Jacobs and Sami Kortemäki and is based in Den Haag, Helsinki and Amsterdam. With a unique approach to style and technology, Underware has earned a fantastic reputation with its extraordinary font designs, genre distorting workshops and media such as 'Typeradio.'
Details
Date: Tuesday, June 5
Fees and deadlines
Early Bird (register by May 11): TDC members $275; non-members $350.
Regular Fee (register by May 30): TDC members $425; non-members $500.
Location: TDC Conference Center, 347 West 36th Street, Suite 603, New York, NY, 10018
Cancellation Policy: If you must cancel, please notify us via e-mail at director@tdc.org by Friday, 11 May 2012. Your  registration fee will be refunded less $50 processing fee. No refunds will be made after this date. Based on student registration the TDC will reserve the rights to cancel the workshop.
Seating is limited. Reservations will be accepted with payment only.
When & Where

Type Directors Club
347 W 36th St
Ste 603
New York, NY 10018


Tuesday, June 5, 2012 from 8:30 AM to 4:30 PM (EDT)
Add to my calendar
Bas Jacobs (Underware): Keep It Straight– One Day Workshop