Bart Bush, Executive Director, Facilities and Operations Support, DHS -- Held at George Mason University

Thursday, April 4, 2019 from 11:30 AM to 1:30 PM (EDT)
Event Details
William Bartlett Bush
Executive Director, Facilities and Operations Support,
Management/Office of the Chief Readiness Support Office,

Department of Homeland Security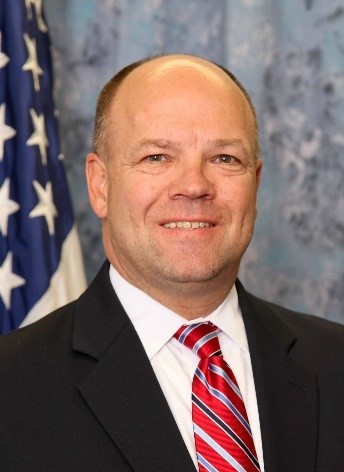 William B. "Bart" Bush is an accomplished, innovative and visionary senior real estate executive with over 25 years of government experience at the federal, state and local levels as well as in the private sector. He has served over 10 years as a member of the Senior Executive Service (SES) with Top Security Clearance. Bart brings the proven ability to view strategic opportunities to optimize processes while improving the organization's mission and bottom-line results. He is a motivational leader and change agent at the executive and program level who is known for his commitment to the organization's success and its people.
Bart joined the Department of Homeland Security as the Executive Director for the Facilities and Operations Support Group in the Office of the Chief Readiness Support Office in September of 2018.  As such, he is responsible for the daily management and oversight of customer support services for more than 30,000 personnel in the National Capital Region (NCR).  These services include real estate projects and property management accomplished through the acquisition, build out, and delivery an oversight of new and existing office space for agency employees.  Central in this effort is the planning, development and build out of the new DHS Headquarters at St. Elizabeths as well as the development of an overall NCR Real Estate Strategy for the agency.
Prior to joining DHS, Bart was Vice President for Real Estate, Stations and Facilities at Amtrak.  He provided overall leadership to develop and utilize Amtrak's nationwide portfolio of real estate and fixed assets to improve the core business and to generate significant streams of new real estate revenues and substantial infusions of private equity. In this role, Bart increased commercial revenues from $81 million to $88 million in a two-year period and reduced corporate and operating costs by $5 million annually.
Bart joined Amtrak after a ten-year stint at the U.S. General Services Administration (GSA) where he was responsible for the coordination of GSA's client relationships along with the creation and implementation of new business processes and tools to support acquisition and delivery of space and related services.
Prior to that, Bart served as Regional Commissioner for the NCR, the largest GSA region with over 93 million square feet of real estate and over 1,400 employees. Notably in this role, he drove annual revenue of $2.6 billion and over $500 million in funds from operation.
A native of Upstate New York, Bart holds a Bachelor of Arts degree in Political Science from Denison University in Granville, Ohio. He and his wife, Cathy, have five sons and reside in Reston, Virginia.
---
--New Venue This Month -- 
George Mason University, Merten Hall (Building 34 on campus map)
Room 1201 - on the first floor 

Joint Event with GMU CE Institute

Attendance Limit of 96

Recommend Using Rappahannock River Deck Parking (for visitors/fee based) 
---
---
Registration & Networking: 1130 – 1200
Lunch & Speaker: 1200 – 1330
RESERVATIONS/PAYMENT: Use this Website
ON-LINE Registration closes at NOON on Wednesday, April 3
ON-SITE Registration on a SPACE AVAILABLE basis - Cash or check only
CANCELLATION POLICY: Refunds until Monday noon, week of the event
Business Card LOTTERY every meeting - Win a FREE lunch (future meeting)
QUESTIONS: Contact Renee Parker -- rparker@afgcm.com
---
---
Become a Sponsor for this month and help the Post's Scholarship Fund!

 Contact Linda McKnight for sponsorship information -- lmcknight@versar.com
---
Save the date:
June 6 -  CAPT Patrick Dugan, PE, Commandant, Chief, Office of Civil Engineering, USCG
Notes:  We return to the Waterford, Springfield, VA, on June 6; the May 2 program is cancelled -- everyone enjoy the SAME JETC!!
When & Where

George Mason University, Merten Hall
4441 George Mason Blvd
Fairfax, VA 22030


Thursday, April 4, 2019 from 11:30 AM to 1:30 PM (EDT)
Add to my calendar