Description
Please join Beauty After the Bars as we host our 1st Annual Bars to Elevation Gala on Sunday October 29, 2017, at the Oasis Shriners in Charlotte, NC. We are excited to be advocates for "Education instead of Incarceration" and hope you are able to join us on this monumental day. During the Gala Beauty After the Bars we'll place a spotlight on work that needs to be done as far as Justice Reform and discuss solutions. There will also be inspiring entertainment and delicious food.
HOST: TONE-X (V101.9)
CO-HOST: BRIGIDA MACK (WBTV)
EVENT DETAILS: Doors Open @5:30PM
FORMAL/BLACK TIE EVENT
GUESTS WEAR BLACK AND/OR WHITE
A DELECTABLE DINNER
We will introduce the National Council for Incarcerated and Formerly Incarcerated Women & Girls to the City of Charlotte and the State of North Carolina.
Beauty After the Bars is fighting for justice and change --> Join our Cause!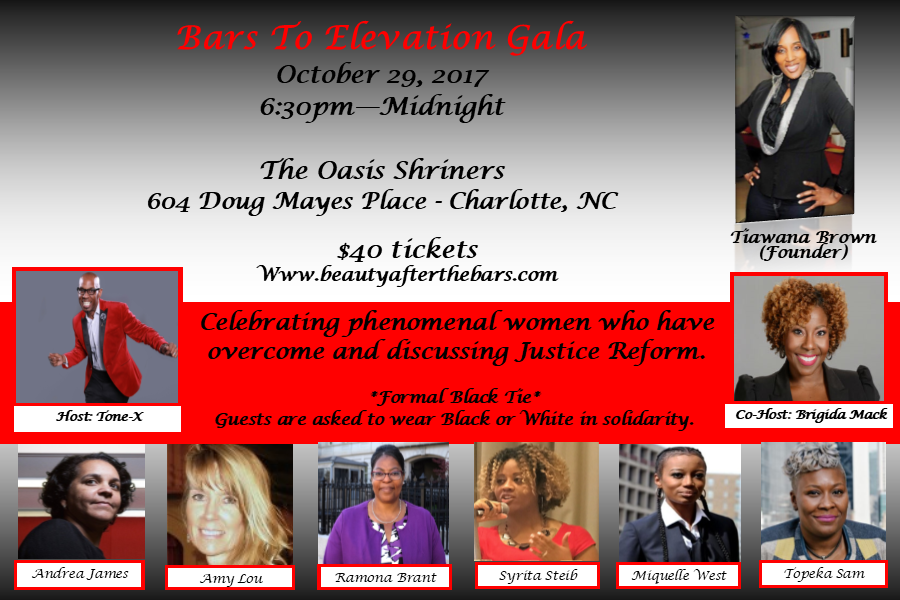 ABOUT BEAUTY AFTER THE BARS
As a 501© 3 non-profit Beauty After the Bars is founded by Tiawana Brown who as a young pregnant woman spent 4 years in prison. The mission is to keep women, girls and youth out of jail and prison by executing transparency, education and empowerment. Our vision is to eliminate incarceration amongst our women, girls and youth and to end the stigmas placed on children of incarcerated and formerly incarcerated parents. Our programs will develop & encourage entrepreneurship, help with job placement, and assist with preparation for reentry back in society.
For more information go to: www.beautyafterthebars.com