Description
The DineAmic Group team is excited to announce the first ever Katsuji's Kitchen!, a cooking demonstration series hosted by Top Chef Katsuji Tanabe. On April 15th from 4 p.m. to 6 p.m., Chef Katsuji will take the stage with special guest and Top Chef rival John Tesar. Pat Tomasulo, WGN's Morning News Anchor, will also be sponsoring and co-hosting the event.
Keeping with DineAmic Group's charitable tradition, 20% of ticket sales will be donated to The Facial Pain Research Foundation, the most innovative research projects to find a cure to end the neuropathic facial pain.
--
Guests will be part of an interactive on-site cooking demonstration and, in this case, Top Chef cook-off. The chefs will be going head-to-head, each creating different courses and demonstrating step-by-step instructions to complete a 5-course dinner for ticketholders. The 5-course prix fixe menu will include Barrio staples such as the Roasted Chili Mango Salsa, Cornbread, Yellowtail Ceviche, Grassfed Barbacoa Tacos, and Churros! Lastly, no Mexican dinner is complete without a margarita or two, so add-on an optional $25 Tequila & Mezcal Margarita Fight pairing featuring Casamigos Tequila to complete the full tasting experience.
--
General admission tickets will include 1 raffle entry for a chance to win great prizes, which include, but are not limited to, Dinner for 2 at Barrio, cookbooks, cookware, gift certificates & more. Those who purchase the wine or tequila pairing will receive 1 additional raffle entry.
Mingle with both Top Chef Katsuji Tanabe & Top Chef John Tesar and, if you're lucky, ask them about the behind the scenes of the biggest Top Chef rivalry known to date. Katsuji's Kitchen! recipe cards will be provided so you can head home and repeat the 5-course meal for friends and family this season!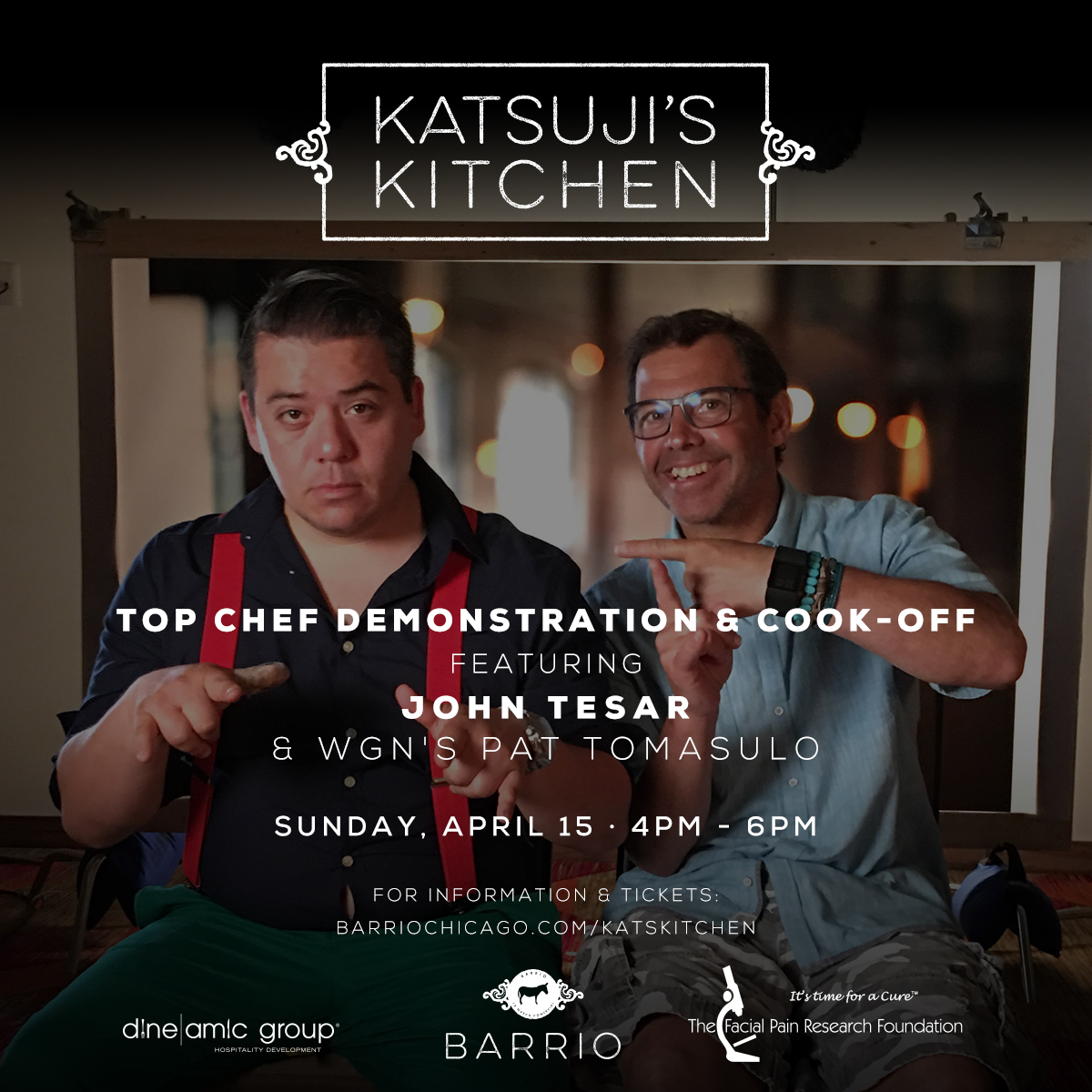 **If you would like to sit with other attendees, please send your request (include ticketholder names) to contact@dineamicgroup.com - we will try our hardest to accommodate your request**
----
*This is a private event*
*Menu is unable to be modified*
*All guests must have a general admission ticket to enter*
*No refunds provided after purchase is made*
*Tickets are nontransferable*