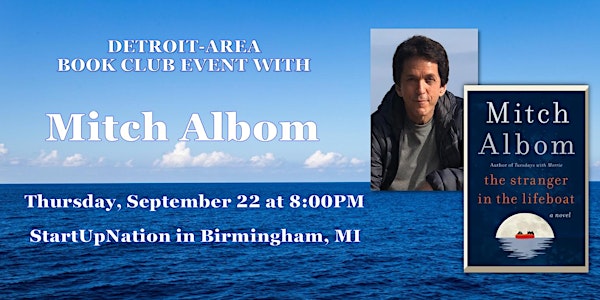 Barnes & Noble Detroit-area regional Book Club Event with Mitch Albom
Barnes & Noble welcomes bestselling author Mitch Albom for a Detroit-area regional Book Club Event to discuss THE STRANGER IN THE LIFEBOAT
When and where
Location
StartUp Nation 34300 Woodward Avenue Birmingham, MI 48009
About this event
Please join us as eight Barnes & Noble stores in the metro Detroit area join forces to host a regional book club event featuring Mitch Albom's #1 bestselling novel, THE STRANGER IN THE LIFEBOAT.
Grab your copy of THE STRANGER IN THE LIFEBOAT at any participating Barnes & Noble and start reading this summer! Then join in on September 22nd at 8 PM at Start up Nation in Birmingham for the book discussion lead by Mitch Albom and his longtime Harper editor, Karen Rinaldi.
The free, ticketed event will also stream live to Mitch Albom's Facebook page and be available for viewing on Barnes & Noble's YouTube channel after the live event.
TICKET INFORMATION:
This is a free, live event. Registration is required to attend.
The event will take place at StartUp Nation in Birmingham, MI at 8 PM on Thursday, September 22 (34300 Woodward Avenue in Birmington. MI)
Ticket holders will be admitted into the event beginning at 7PM on the night of the event. Please have a copy of your ticket available (either printed out or on your phone) for check in.
GUIDELINES:
Mitch Albom will be signing copies of THE STRANGER IN THE LIFEBOAT only after the discussion
No posed photos. Photos can be taken from the signing line.
Additional copies of THE STRANGER IN THE LIFEBOAT and Mitch Albom's other books will be available for purchase at the event
Due to space limitations, those without a ticket will not be permitted to join the queue.
Copies of THE STRANGER IN THE LIFEBOAT can be purchased at all participating Barnes & Noble Detroit-area bookstores including both Rochester Hills locations, Troy, Shelby Township, Allen Park, Northville, Ann Arbor, Green Oak Township. Visit BN.com to get information on the store nearest you.
All event guidelines are subject to change.

Please note that Eventbrite is the only authorized dealer for this event. Each person must have a ticket to enter.

Refunds:

Attendees can cancel their registration up to 1 day before event start date.

___________________________________________________________________________________________________

About THE STRANGER IN THE LIFEBOAT:

#1 New York Times Bestseller

What would happen if we called on God for help and God actually appeared? In Mitch Albom's profound new novel of hope and faith, a group of shipwrecked passengers pull a strange man from the sea. He claims to be "the Lord." And he says he can only save them if they all believe in him.

Adrift in a raft after a deadly ship explosion, ten people struggle for survival at sea. Three days pass. Short on water, food and hope, they spot a man floating in the waves. They pull him in.

"Thank the Lord we found you," a passenger says.

"I am the Lord," the man whispers.

So begins Mitch Albom's most beguiling novel yet.

Albom has written of heaven in the celebrated number one bestsellers The Five People You Meet in Heaven and The First Phone Call from Heaven. Now, for the first time in his fiction, he ponders what we would do if, after crying out for divine help, God actually appeared before us?

In The Stranger in the Lifeboat, Albom keeps us guessing until the end: Is this strange man really who he claims to be? What actually happened to cause the explosion? Are the survivors in heaven, or are they in hell? The story is narrated by Benji, one of the passengers, who recounts the events in a notebook that is discovered—a year later—when the empty life raft washes up on the island of Montserrat. It falls to the island's chief inspector, Jarty LeFleur, a man battling his own demons, to solve the mystery of what really happened.

A fast-paced, compelling novel that makes you ponder your deepest beliefs, The Stranger in the Lifeboat suggests that answers to our prayers may be found where we least expect them.

About Mitch Albom:

Mitch Albom is the author of numerous books of fiction and nonfiction, which have collectively sold more than forty million copies in forty-seven languages worldwide. He has written seven number-one New York Times bestsellers – including Tuesdays with Morrie, the bestselling memoir of all time, which topped the list for four straight years – award-winning TV films, stage plays, screenplays, a nationally syndicated newspaper column, and a musical. Through his work at the Detroit Free Press, he was inducted into both the National Sports Media Association and Michigan Sports halls of fame and is the recipient of the 2010 Red Smith Award for lifetime achievement. After bestselling memoir Finding Chika and "Human Touch," the weekly serial written and published online in real-time to raise funds for pandemic relief, his latest work is a return to fiction with The Stranger in the Lifeboat (Harper, November 2021). He founded and oversees SAY Detroit, a consortium of nine different charitable operations in his hometown, including a nonprofit dessert shop and food product line to fund programs for Detroit's most underserved citizens. He also operates an orphanage in Port-Au-Prince, Haiti, which he visits monthly. He lives with his wife, Janine, in Michigan. Learn more at www.mitchalbom.com, www.saydetroit.org, and www.havefaithaiti.org.