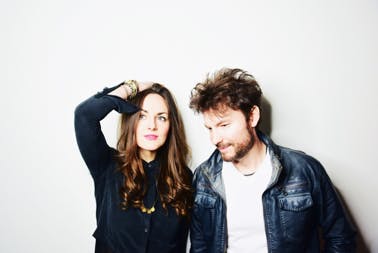 About this Event
7 PM DOORS
8 PM SHOW
Both classically-trained, Nathan and Becky Bliss have made some cool Americana records, lived in Brooklyn, Nashville and Kansas, toured coast to coast, run out of money, toured Europe, run out of money again, won high-falutin' prizes for songwriting in New York, generally not argued, done benefit shows for prestigious US AAA radio stations, given away 200k+ tracks on Amazon, kept writing, built an audience, been named one of Amazon's Top 100 albums of the year, played Lincoln Center & NPR's Mountain Stage, eaten copious amounts of vegetarian food, attracted 19k+ listeners a month on Spotify and opened for Norah Jones & the Lumineers.
Their new eponymous album, coming June 2019, speaks to where they've been, who they are, what they want and where they're going. It's smart folk-pop with electronic brushstrokes and authentic Americana songwriting. And. Somewhere in there they got married, but they'd rather not talk about that!
Calvin Arsenia has built a reputation for turning the arts world on its head. While the harp has allowed this Kansas City native to become a man of the world (gaining followings in Paris, Edinburgh, and at the Outlyre festival in Austria), it's his unique ability to craft a stimulating setting at his live shows that has all eyes fixed on this conspicuous musician and his breathtaking approach to harp music.  
His angelic, classically-trained voice soars over audiences, enchanting even the fussiest of fans, beckoning them to join him as he flirts between genres. He dances between indie, jazz, and electronic music while calling upon rare harmonies and arrangements from his team of performers. But the music is just one part of his prodigious performances, for Calvin believes the art is in crafting the perfect moment. His music is best served live, with sensational performances and high fashion from the visually striking performer who stands at well over six feet tall. 
Between his 2017 release Catastrophe and the upcoming Cantaloupe, Calvin has consistently delivered genre-bending (and gender-bending) shows that tackle sexuality, religion, and race in a stunningly unorthodox manner. Somewhere between sacred and sacrilege, you'll find Calvin furiously plucking away at his harp, questioning subject matter that rarely makes it to the stage. It's this tender approach to songs that has won audiences over, sometimes on the spot, time and time again. "I feel that every story and life has the right to be heard and understood," Calvin says. "Issues of race, class, and sexuality should not ever diminish the value of a life. We gain a greater understanding of the world when we adopt and incorporate the views and perspectives of people." - Fally Afani, 2018
Performers
Date and Time
Location
Refund Policy