Barnabas Training Basic September 29, 2018

Saturday, September 29, 2018 at 9:00 AM (EDT)
Event Details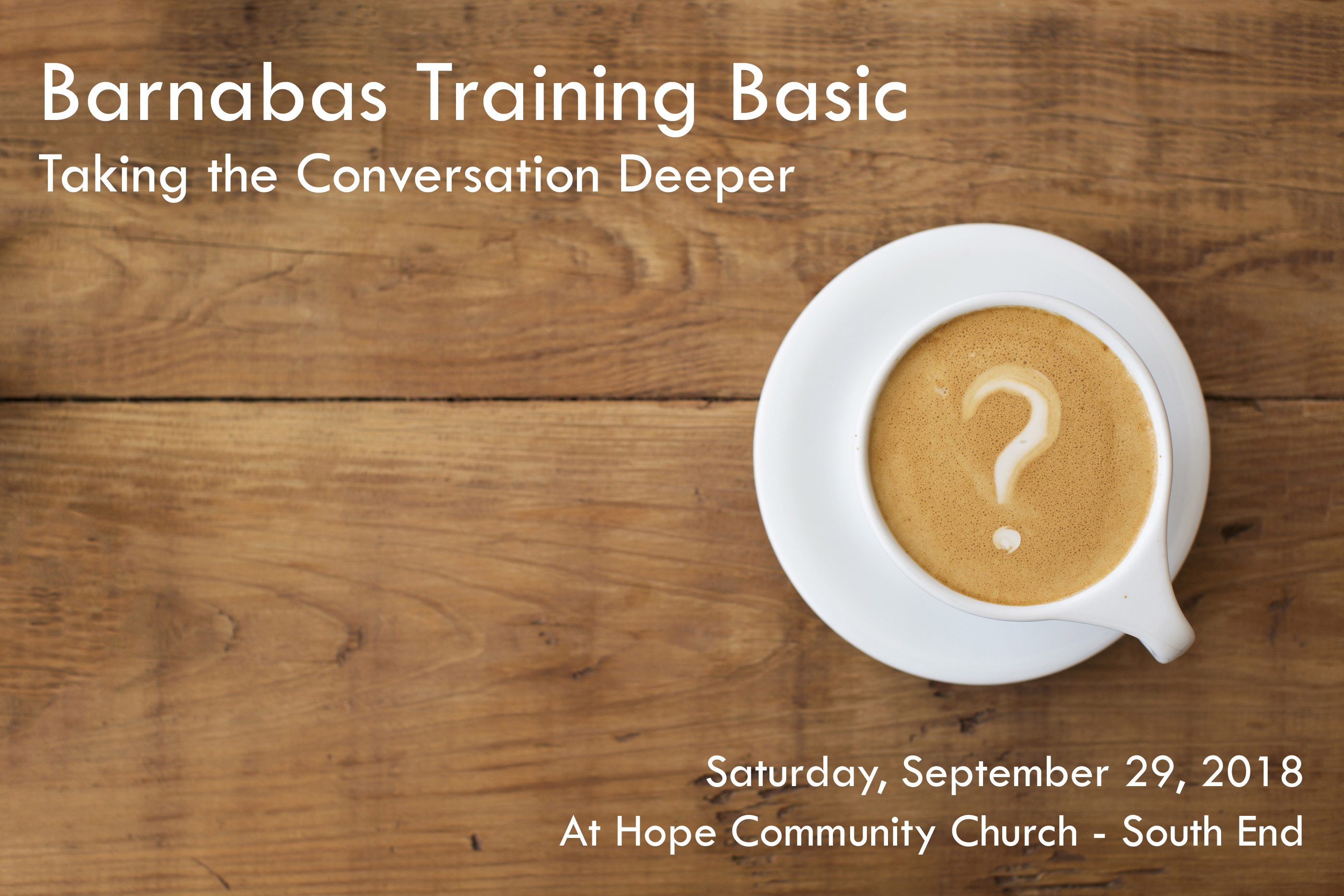 Do you ever think to yourself, "Why is community so difficult to find after college?" or "What's behind the snarky comments my boss makes?" or "There has to be more to friendships than what I'm experiencing."  If you find yourself surrounded by people but don't have many deep friendships or if you wish your conversations could get past the surface, Barnabas Training Basic could be just the thing to begin to address your thoughts and questions.
Barnabas Training Basic equips you to see yourself and others in ways that foster deeper relationships. It gives practical help to know how to better encourage friends facing difficult times in life and faith. This biblically based seminar helps you understand others by gaining a biblical understanding of your own heart. It includes sound teaching, personal examples,
and an interactive small group experience, plus reflective time to practically apply the principles. The seminar will help you better understand yourself as well as invite others into a deeper relationship in Christ.


  Date: Saturday, September 29, 2018
Location:  Hope Community Church, South End location
Time: Registration opens 8:30a; Training runs 9:00a - 4:00p
Cost:  Early registration is $80 if registered by Sept. 8th; late registration $110
Registration closes Wednesday, Sept. 26th.
Scholarships forms are available upon request by emailing chutchinson@thebarnabascenter.org.
Barnabas Training Basic forms the foundation for those who want more training in caring for others (Barnabas Training Level 1, 2, & 3).  If you'd like to continue your training with us we'll be offering two opportunities to participate in the next level of training -
Barnabas Level 1 - starting in October.   
 Click here for more information about the BT1 daytime group.

Click here for more information about the BT1 evening group.
---

 Please contact Jamie Swarzendruber with any questions at jamie@thebarnabascenter.org.
Refund Policy:
In the event you need to cancel your participation in this event we can refund you the full amount of your payment if we are notified of your cancellation at least 10 days prior to the event. We can only refund you 50% of your payment if we are notified of your cancellation less than 10 days prior to the event.

When & Where

Hope Community Church
3021 Griffith Street
Charlotte, NC 28203


Saturday, September 29, 2018 at 9:00 AM (EDT)
Add to my calendar
Organizer
The Barnabas Center is a non-profit counseling, training, and teaching ministry in Charlotte, NC.  Founded in 1989, the Center espouses the belief that God is at work in the struggles of life for our good. Barnabas offers a sliding scale for counseling fees and is supported by donations. 
Main office:
The Barnabas Center
7615 Colony Road, Ste. 200
Charlotte, NC  28226
704-365-4545
www.thebarnabascenter.org
Richmond office:
Lisa Ould
1129 Gaskins Road, Suite 107, Richmond, VA 23238 804-741-2333 barnabasrva.org 
Triad office:
1144 West 4th Street
Winston-Salem, NC 27101
(336) 521-7641