Barn to Badge: Meet and Greet for Farmers & Chatham County Sheriff's Office
The Chatham County Sheriff Office and it's Animal Resource Unit are seeking ways to serve YOU better!
About this event
Join members of the NC Cooperative Extension and Chatham County Sheriff's Office for the first Chatham County Farmer - Deputy Meet and Greet! Share your story and get to know the deputies serving your community. Practicing open communication and building positive relationships between law enforcement and the community benefits the safety and protection of our agriculture industry. Speakers will include, Andrew Branan, Ag Law Extension Specialist, who will give updates on the new gag law, right to farm, and basic ag laws that apply to farmers. This is a valuable opportunity to network with deputies and fellow agriculturalists in your area to discuss ways we can work as a team and promote awareness. Bring your questions,concerns and ideas to the table for a fun evening! This event is non-formal and will include light foods and drinks.
Chatham County Ag & Conference Center
1192 US 64W Business
Pittsboro, NC 27312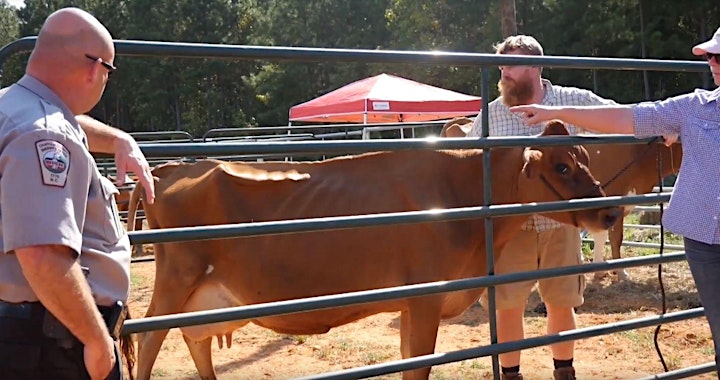 Organizer of Barn to Badge: Meet and Greet for Farmers & Chatham County Sheriff's Office
---
NC State University and N.C. A&T State University work in tandem, along with federal, state and local governments, to form a strategic partnership called N.C. Cooperative Extension, which staffs local offices in all 100 counties and with the Eastern Band of Cherokee Indians.
Read our Privacy Statement
N.C. Cooperative Extension prohibits discrimination and harassment on the basis of race, color, national origin, age, sex (including pregnancy), disability, religion, sexual orientation, gender identity, and veteran status.
Individuals with disabilities are invited to request reasonable accommodations to participate in Extension sponsored programs and events. Please contact the county Extension office offering the program at least 14 days prior to the event to make arrangements.