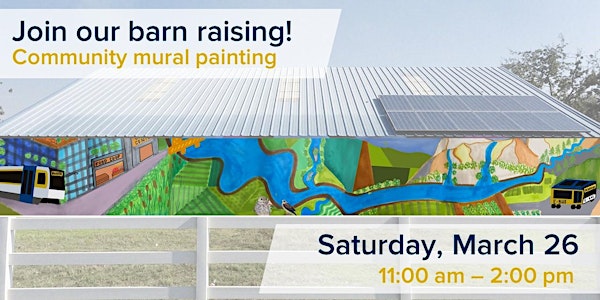 Barn Raising: Community Mural Painting
A mural design competition to inspire climate activism in the Sacramento Valley
When and where
Location
Russell Farm 22777 County Road 102 Woodland, CA 95776
About this event
The UC Davis Institute of the Environment and the One Climate Initiative invites community members of all ages to participate in the painting of a large-scale mural on a local barn.
Saturday, March 26, 2022
11:00 -2:00 pm
22777 Road 102, Woodland, CA
Grab a brush and pick a color (think paint by numbers) to help complete this winning design of the "Climate Raising" mural design challenge, while enjoying free tacos from Guads and live music. Raffle prizes will also be given away.
UC Davis students (both undergraduate and graduate) identified a climate-related agricultural issue in the Valley, took a position on that issue, and developed mural proposals (27 total) that visually communicated that position to the public. Final submissions were evaluated on five criteria: accessibility, feasibility, connectivity, defensibility, and engagement by a jury comprised of designers and artists.
"Hungry for Connection", by Rachael Dal Porto a Civil & Environmental Engineering Ph.D. student was the winning artist.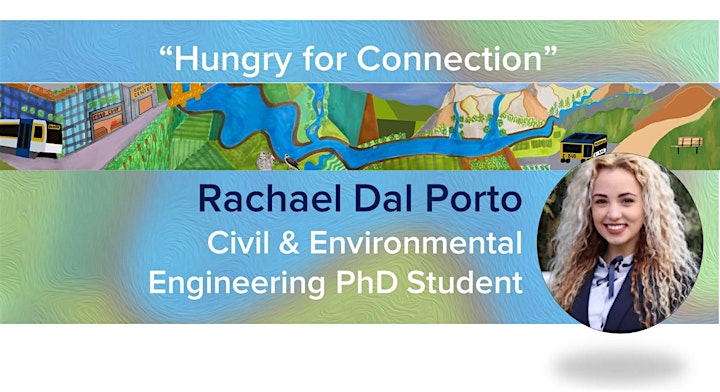 This mural travels along the Sacramento Valley via the Sacramento River from Downtown Sacramento up to Mt. Shasta. It features climate-resilient crops, as well as crops that are projected to have crop yields that stay constant or even increase with the onset of climate change. The mural connects the valley with food and clean transportation, allowing people to access clean, healthy, local food, and travel and recreate accessibly throughout the region with low emissions and costs. The valley utilizes flood plains for agriculture, and reconstructed wetlands and riparian zones for fish runs and local wildlife to thrive. It acknowledges local action via individual choices like food purchasing and sharing, as well as low emission travel and multi-unit living. It also recognizes climate change mitigation as well as resiliency through decreased emissions and water use, and increased water storage from wetlands, meadows, and riparian zones, as well as levees and hedgerows. It also includes community resiliency with city cooling centers, food co-ops and community gardens/roofs, and accessible trails.
Thank you to our sponsors and partners!
UC Davis Center for Health and the Environment
UC Davis College of Agricultural & Environment Sciences
UC Davis College of Engineering
UC Davis College of Letter & Sciences
UC Davis Office of the Chancellor and Provost
UC Davis Office of Development
UC Davis Office of Research
UC Davis Office of Sustainability
UC Davis Western Center for Agricultural Health and Safety
UC Davis Office of Undergraduate Education
UC Davis Office of the Vice Provost for Grand Challenges
Yolo Federal Credit Union
If you are interested in sponsoring this event or making a donation to support efforts to find solutions to climate change please contact Director of Development, Ashley Green at argreen@ucdavis.edu or visit.
Help support the One Climate Initiative's goal of leading the way forward to planetary resilience by catalyzing a powerful and diverse nexus of change-makers—integrating across disciplines and with partners in industry, government, NGOs and communities to scale solutions for maximum global impact. Through a state-of-the-art carbon farm, the collaborative development of new technologies and climate policies, and applied research and student training, we will deploy the solutions that the world needs now.

Bike Friendly
We encourage folks to ride their bikes from Davis to the event. The farm is less than 3 miles from Covell Blvd. and Pole Line Rd. There is a bike lane on Pole Line all the way to Woodland, that goes past the farm. Bike parking will be available at the farm. We highly recommend bicyclists wear helmets, obey all traffic signs and laws and be aware of traffic.
COVID-19 Guidelines
All visitors to campus must follow the same set of personal protection practices required for students, staff, academics and others.
Visitors are required to complete a Daily Symptom Survey prior to entering facilities on campus.
Face coverings are required indoors for everyone, regardless of vaccination status. Unvaccinated people must also wear face coverings outdoors in crowded spaces.
All participants will be asked to sign a Waiver of Liability, Assumption of Risk, and Indemnity Agreement prior to entry.
Waiver: In return for being permitted to participate in the following activity or program ("The Activity"), including any associated use of the premises, facilities, staff, equipment, transportation, and services of the University, I, for myself, heirs, personal representatives, and assigns, do hereby release, waive, discharge, and promise not to sue The Regents of the University of California, its directors, officers, employees, and agents ("The University"), from liability from any and all claims, including the negligence of The University, resulting in personal injury (including death), accidents or illnesses, and property loss, in connection with my participation in the Activity and any use of University premises and facilities.
Description of Activity or Program:
Date(s): March 26, 2022
Assumption of Risks: Participation in The Activity carries with it certain inherent risks that cannot be eliminated regardless of the care taken to avoid injury. The specific risks vary from one activity to another, but the risks range from 1) minor injuries such as scratches, bruises, and sprains, to 2) major injuries such as eye injury, joint or bone injuries, heart attacks, and concussions, to 3) catastrophic injuries such as paralysis and death.
Indemnification and Hold Harmless: I also agree to indemnify and hold The University harmless from any and all claims, actions, suits, procedures, costs, expenses, damages and liabilities, including attorney's fees, arising out of my involvement in The Activity, and to reimburse it for any such expenses incurred.
Severability: I further agree that this Waiver of Liability, Assumption of Risk, and Indemnity Agreement is intended to be as broad and inclusive as permitted by law, and that if any portion is held invalid the remaining portions will continue to have full legal force and effect.
Governing Law and Jurisdiction: This Agreement shall be governed by the laws of the State of California, and any disputes arising out of or in connection with this Agreement shall be under the exclusive jurisdiction of the Courts of the State of California.
Acknowledgment of Understanding: I have read this Waiver of Liability, Assumption of Risk, and Indemnity Agreement, fully understand its terms, and understand that I am giving up substantial rights, including my right to sue. I confirm that I am signing the agreement freely and voluntarily, and intend my signature to be a complete and unconditional release of all liability to the greatest extent allowed by law.