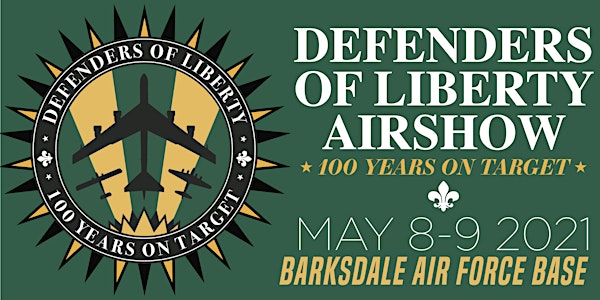 Barksdale Defenders of Liberty Air & Space Show: 100 Years on Target
GET YOUR AIR SHOW PASSES! Drive-in and tailgate with family/friends and enjoy the air show on the nation's premier strategic bomber base .
When and where
Location
Barksdale Air Force Base Wilbur Wright Dr Barksdale Air Force Base, LA 71110
About this event
On the day of the Air Show Gates will open at 9:00 a.m. Please do not get to the gates earlier than that, you will be turned away. Your parking spot is guaranteed up until show time at 11:00 a.m. If ticket holders are NOT on base by 11 a.m. then the parking flow team will begin to fill spots until capacity is reached.
When you arrive to Barksdale Air Force Base please have your ticket PRINTED and ready to show to the Security Forces Personnel who will be at the gate.
By downloading your free e-ticket to the 2021 Defenders of Liberty Airshow you are agreeing to the following:
Upon entry to Barksdale Air Force Base, your vehicles and persons are subject to search.
Spectators must remain in their spot unless leaving for the bathroom
You may not sit or stand on top of your vehicle. You many sit on the tailgate of your truck if you have one.
No pets. Service animals, as defined by the Americans with Disabilities Act, are allowed **
No drones, balloons, golf carts, segways, roller skates, skateboards, bicycles, hoverboards
No Frisbees, baseballs, or other sporting equipment that can be thrown
No glass containers whatsoever
No grills or devices to cook food
No Beach umbrellas or tents
No pipes, cigars, cigarettes, electronic cigarettes, or other Tabaco products
No alcohol products
No weapons including but not limited to: guns, knives or blades of any length, stun guns or Tasers, mace, etc.
Guest may leave, but there will be no re-entry
Coolers are allowed to carry water, soft drinks, and food items
You must take anything you brought with you away, including all trash and refuse
You may take your mask off within your designated parking spot, but 100% Mask wear is required when outside that area, to include using the bathroom area
Chairs and tables allowed, it must fit in your tailgate area, which is apart of your 20 x 20 parking spot
NO RVs or Campers
Please take a look at the layout of the parking spaces to give you a visual of what your parking and tailgating space will be. This is a 20 x 20 space . On the day of the air show there will be a parking flow team to greet you and help facilitate parking your car.
For updates about the Air Show you can get information from the following websites:
https://barksdaleafbairshow.com
https://www.facebook.com/barksdaleairshow
https://www.barksdale.af.mil
https://www.facebook.com/TeamBarksdale