Description
Calling all San Diego dog lovers! It's time to celebrate the holiday season and help other dogs in need!
Grab your pups and friends and join us for a tail-wagging time at our Holiday Pawty to benefit The Barking Lot! We'll have professional holiday photos for you and your dog, festive activities, and your chance to win some amazing prizes!
Sunday, December 18 2:00-5:00 pm

Camp Run a Mutt, Kearny Mesa
7888 Othello Ave. San Diego, CA 92111

Tickets are $15 per person and Include:

-FREE Professional holiday photos with by Dre Arroyo Photos

-FREE Goody bags from Ento Bento

-FREE Pet treats from Three Dog Bakery

Fun Activities:

-Dog Exercise Class Demonstration provided by Leash Your Fitness

-Holiday Scavenger Hunt
*Those who complete the Scavenger Hunt will be entered into Grand Prize drawing to win a
Five Day Dog Daycare Package from Camp Run a Mutt, worth $175!
-Dog Massages offered by Reiki for All Creatures

Door Prizes:
$25 Gift Certificate to Leash Your Fitness
$85 Gift Certificate for In Home Pet Reiki or Acupressure provided by Reiki for All Creatures
$50 Gift Certificate for Pawtopia Dog Training
$100 Gift Certificate to Paws 4 Shots
*Get an EXTRA PRIZE TICKET by bringing an item from the Barking Lot's wish list to help support their pack!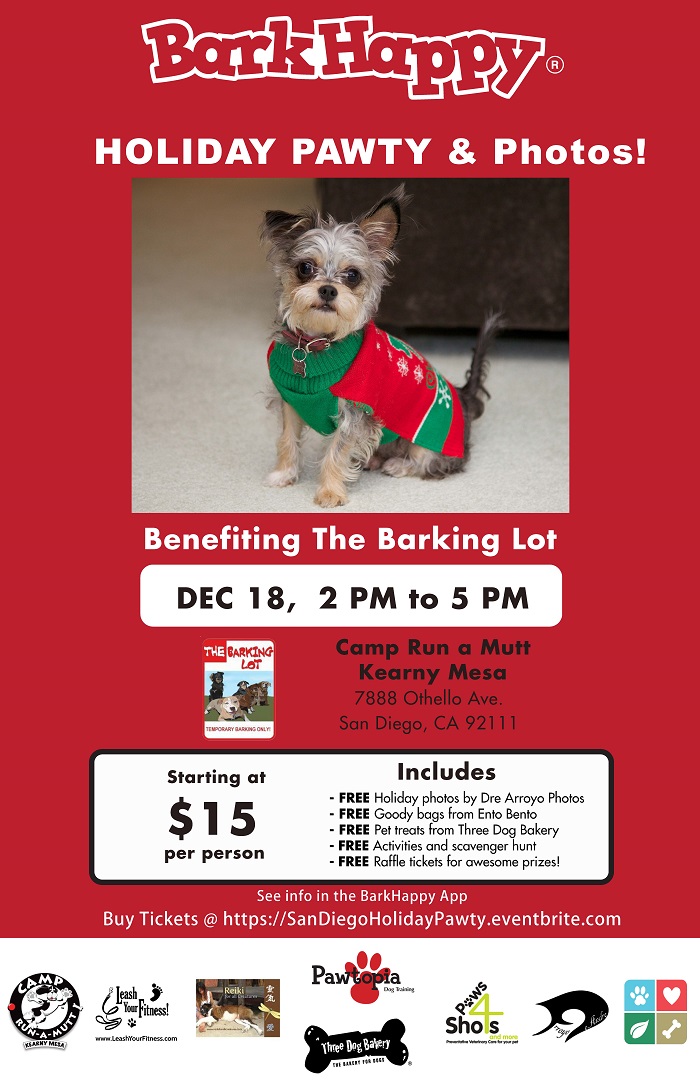 NOTE: This is a family friendly event. All friendly well behaved dogs ( humans) welcome! Dogs must remain on leash.
RSVP in the BarkHappy mobile app under "Events" or on www.facebook.com/barkhappy