Description
Calling all Portland dog lovers! Looking to get in shape in the new year? Make your dog your workout buddy! Come to our event and learn some moves you and your dog can do together from Sit Stay Fit and also have some fun. All for charity to support Family Dogs New Life Shelter!
Sunday, January 22, 2016 2:00-4:00 pm
Tickets are $15 and include:
-FREE Dog Food Samples from Pet Wants PDX
-FREE Cold Pressed Juices from Portland Juice Company
-FREE $5 off Coupon from Pets on Broadway
-FREE $5 Off Coupon from Green Dog Pet Supply
-FREE Doggy Treat Eating Competition
-Entry into Raffle to win GREAT prizes like 2 FREE days of Doggy Daycare at Central Bark, and more!
NOTE: This event is family-friendly. All friendly, well behaved, leashed dogs welcome!
Location:
Training for Warriors PDX
1338 Southeast 6th Avenue
Be sure to purchase tickets in advance online. Tickets are not sold at the door and a limited number are available.
Save 10% on tickets by using the promo code found in the BarkHappy app under Events, look for this event.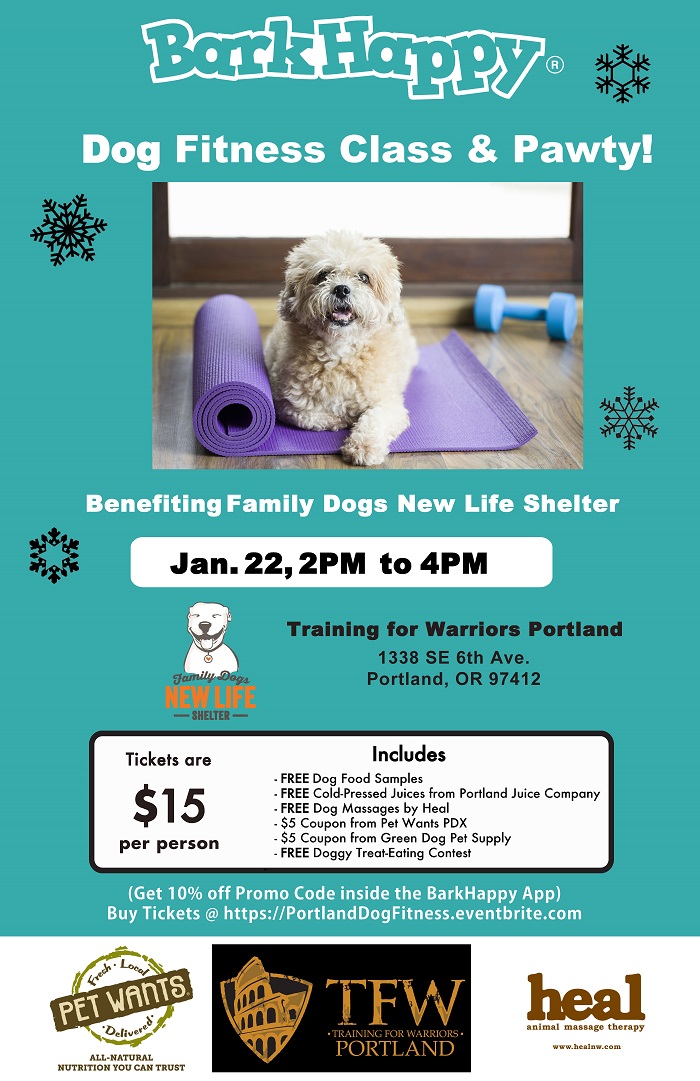 A portion of proceeds supports FDNL. As this is a charity event there are no refunds