Description
Calling all Las Vegas dog lovers! It's time to celebrate the holiday season and help other dogs in need!
Grab your pups and friends and join us for a tail-wagging time at our Holiday Photo Pawty to benefit A Home 4 Spot Animal Rescue! We'll have holiday photos, festive activities, and your chance to win some amazing prizes!..plus a $100 coupon that pays for your ticket 5x !!
Saturday, December 10, 2016 4:00-6:00 pm
Doggie District Summerlin
4245 S Grand Canyon Dr. Ste. 110
Las Vegas, NV 89147
Tickets are $20 per person and Include:
-FREE holiday photos by BarkGallery
-$100 coupon for dog training for each event attendee by Doggie District (Worth 5 times the regular ticket price, so your admission ticket is basically FREE!)
-FREE Pet Treats from You Lucky Puppy
-FREE Pet treats from Snooty Pets
Activities:
-Winter Wonderland Obstacle Course
-Paw print ornament making
-Holiday card making
-Dog Adoptions by A Home 4 Spot
Door prizes:
-FREE Week of Doggy Daycare at the Doggie District (Valued at over $200)
-Swag Baskets of gifts, treats, & apparel from Doggie District
-Gift Cards to local pet stores such as $25 to Petco

*Humans and pups who wear an Ugly Sweater will receive an extra raffle ticket!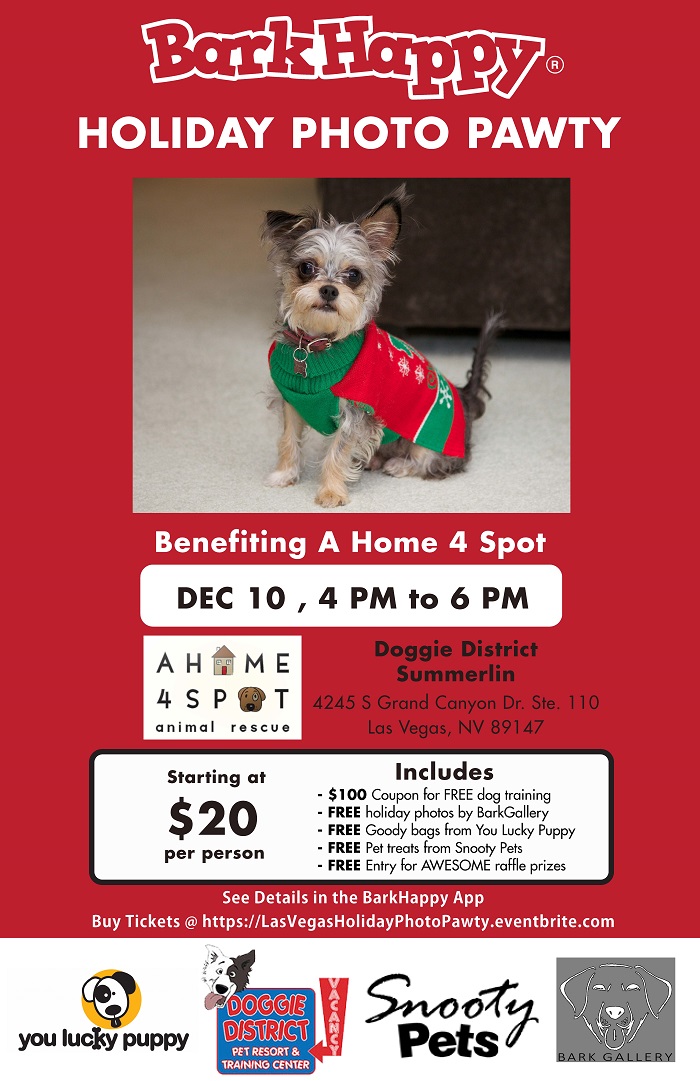 NOTE: All friendly well behaved dogs (and adult humans) welcome! dogs must remain on leash.
Dogs must show proof of the following vaccines to be admitted to the event: Rabies, DHLPP, and Bordatella.
RSVP in the BarkHappy mobile app under "Events" or on www.facebook.com/barkhappy