Description
Spring is in the air so grab your pups and friends and join BarkHappy for our Barks 'N Brews Party to benefit Paws in the City!
It will be a great time at Texas Ale Project! We'll have TONS of giveaways, goodies and fun activities including a FREE night of boarding at Pet Pals of Dallas (a $35 value which more than pays for your ticket!), gourmet dog treats, a 1 lb bag of dog food, dog henna tattoos, giveaways, coupons, homeade jerky treats and much more! Pups and their people can strike a pose in our fun spring-themed photo booth and enjoy a free professional digital download from VKM Shuttergraphy. Our furry friends in attendance will also have a chance to face off in a doggy ice cream eating contest, and pups who come dressed with flowers or like a lamb or lion will receive an extra raffle ticket!
Saturday, March 18th from 1:00-3:00 pm
Early Bird tickets start at $12 per person and includes gifts worth over $40:
- FREE Night of Boarding at Pet Pals of Dallas (a $35 value!)
- FREE Gourmet treats from Doggy Bag Treats ($4 value)
- FREE Coupon for 2 bags of treats for $10 (a $6 discount) from Doggy Bag Treats
- FREE Paw print henna hattoos by Gypsy Heart Henna
- FREE Koozies and coupons for 10% off purchases from RED STAR Bicycles Shop

- FREE Homeade jerkey, sweet potato chips and treats, and a 1 lb bag of dog food from Pet Wants

- BOGO Appetizers from Luck
- FREE Spring themed photo booth
- FREE Professional digital download from VKM Shuttergraphy
- FUN Doggy ice cream eating contest sponsored by Mutts Canine Cantina
- Exclusive Drink Special - 2 Beers and a glass for $12
- ENTRY into Raffle to win GREAT prizes, including a T.A.P. party worth $350, $25 Ascension Coffee gift cards and 6 months of Doggy Bag Treats worth $75!
Location:
Texas Ale Project
1001 N Riverfront Blvd.
Dallas, TX 75207
$12 early bird tickets are limited in quantity. Once they sell out, general admission is $15. Be sure to purchase tickets in advance online. Tickets are not sold at the door.
Save 10% on tickets by using the promo code found in the BarkHappy app under Events, look for this event.
NOTE: This event is family friendly. All friendly, well behaved, leashed dogs welcome!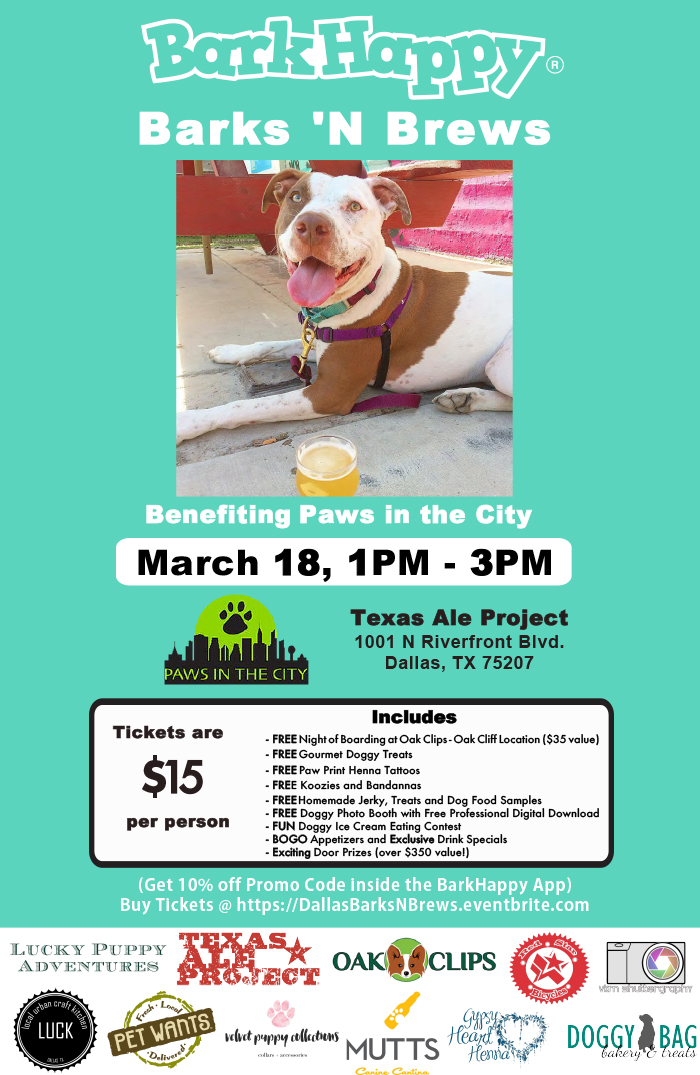 As this is a charity event, there are NO refunds. This event will be held rain or shine.
A portion of the proceeds will benefit Paws in the City.