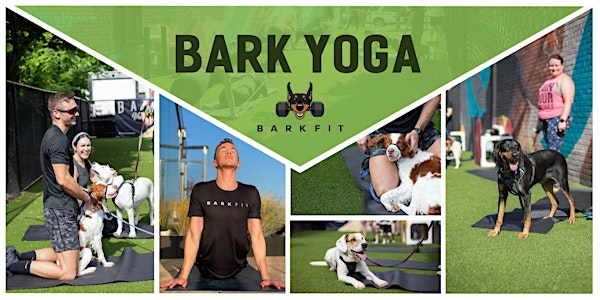 Barkfit Puppy Yoga
Sweaty poses, wet noses: join us for 'doga' every Saturday morning at Park View!
Date and time
Saturday, August 12 · 10:30 - 11:30am EDT
Location
District Dogs Training 3210 Georgia Avenue Northwest Washington, DC 20010
Refund Policy
Contact the organizer to request a refund.
About this event
Yoga offers a great opportunity to meet ourselves where we are in the present—in body, mind, and spirit. Taking time to focus on our breath, our movements, and where we may be feeling stuck or stagnant has benefits that stick with us long after we're off the mat.
For many of us, our dogs offer a similar source of care and attention. They love us unconditionally, encourage us to stay in the moment, and never ask us to be more than we are.
Practicing yoga alongside our dogs creates the opportunity to combine caring for ourselves with the sense of fulfillment and purpose we find when caring for and connecting with our dogs. Their capacity for joy and acceptance makes each class a fun and restorative experience.
Grab your pup and a ticket and join our weekly dog and puppy yoga classes, always led by our certified yoga instructor. Mats are provided, but we recommend bringing extra treats to guide your pup through the class.
Our Barkfit Core Principles guide each and every yoga class:
1. There are no end goals to a yoga practice. The purpose of each class is to check-in with the self, assess the parts of us that need care and attention, and to encourage release and expansion.
2. The validation we feel from being needed and appreciated by someone outside of ourselves is a healthy human experience. Incorporating our dogs into yoga practice helps us remain mindful and grateful for the privilege of sharing our lives with our canine companions.
3. Stepping into a new space or new habit can feel challenging or even scary at first. Having our dogs present fosters a sense of comfort and warmth that can help us feel at home on the mat. Not only does this benefit our practice, but it helps us remain open to building social connections with others.
4. All body types, all levels of familiarity with yoga, and all dogs are welcome in our space. We offer and encourage modifications so that you and your dog feel comfortable during class and refreshed afterwards.
About Barkfit
BarkFit specializes in creating unique fitness experiences that encourage dog owners to find the fun and joy in working out with their best friend and biggest cheerleader. Each class offers a different style of exercise intended to offer a physical challenge and a mental boost—from stress-busting yoga classes to high-energy bootcamps. Your dog gets to be a part of the action with exercises designed for them and for you to do with them.
About the organizer
We're not just your average doggy daycare -- join us at any of our amazing events!