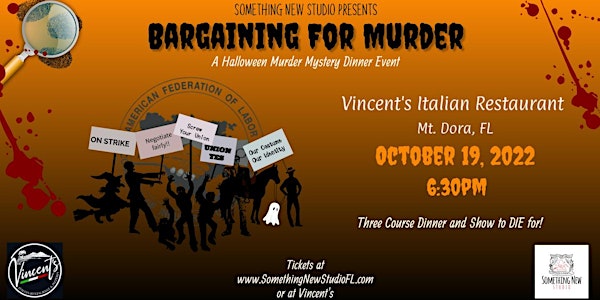 Bargaining for MURDER - A Halloween Murder Mystery Dinner Experience
An INTERACTIVE murder mystery show. 3 course meal & comedy murder mystery where YOU live the story, question suspects and SOLVE the crime.
When and where
Location
Vincent's Italian Restaurant 5914 North Orange Blossom Trail Mount Dora, FL 32757
Refund Policy
Refunds up to 1 day before event
Eventbrite's fee is nonrefundable.
About this event
Bargaining for Murder
The town of Hallosville is in an uproar. As the evening of Halloween approaches, the residents of Hallosville feel unappreciated. Their identities are at stake as children across the globe dress up in costumes for a night of trick or treating. However, Hallosvillians feel that they have been tricked.
Fifty years ago, Mayor Allen Edgar Poo was duped into signing away the identity rights of all of the residents of Hallosville to ACME costume manufacturers. The deal was supposed to put Hallosville on the map and provide decades of prosperity for town residents. Unfortunately, the contract was not well written and now the ghosts, monsters, sexy nurses and other residents of Hallosville have had enough of being exploited. Even with the company raising starting pay rates to $15/hr the residents of this small factory town are not happy.
Tonight, they come together at the local "haunt" to meet with Timmy Hoffer, president of the AFL/CIO labor union in an effort to take control of their own future. However, not all residents believe forming a union is the solution to their problems and will stop at nothing to bring the plan to a DEAD end.
~~~~~~~~~~~~~~~~~~~~~~~~~~~~~~~~~~~~~~~~~~~~~~~~~~~~~~~~~~~~~~~~~~~
Your ticket puts you in the middle of the action as this immersive mystery experiences happens all around you. You will meet the suspects, you will question each of them and you will determine whodunnit as you enjoy an amazing dinner at Vincent's Italian Restaurant.
Your Three Course Meal Includes...
First course
House Salad and Fresh Rolls
Main Course Choice of
Tour of Italy - Lasagna, Eggplant Manicotti and Meatball
Chicken Fettuccini Alfredo
Eggplant Parmasean
Dessert
Tiramisu
Soft drinks included.
Alcoholic beverages NOT included.
Gratuity NOT included.
Groups are asked to please purchase tickets at one group if they wish to be seated together. We can not guarantee seating together if tickets purchased separately online. If wishing to order tickets separately please call Vincent's directly.
As YOU become the new recruits of the Unity Acres Hippie Commune we encourage you to put on those tie-dyes and headbands and really get into the evening.
Large groups welcome!
Our show is rated PG-PG13 for potential adult topics and innuendo. Most of our show is improvised so you never can be sure in which direction things will go. We do promise no graphic violence, overt sexuality or excessive adult language.