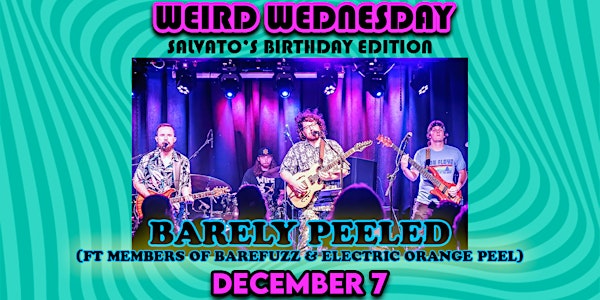 BARELY PEELED at The Summit Music Hall - Weird Wednesday December 7
Celebrate Salvato and Berta's birthday at Weird Wednesday on December 7th with Barely Peeled ft members of Barefuzz & Electric Orange Peel!
When and where
Location
The Summit Music Hall 2210 Summit St. Columbus, OH 43201
About this event
"Barely Peeled'' is comprised of Austin Crumrine, Andrew Maughan, Adam Tackett & Derek Petrucci; long time friends and collaborators who have earned their stripes in the Midwestern Jam / Festival scene through the rigorous touring of their respective projects Electric Orange Peel (Crumrine) & BareFuzz (Maughan, Tackett, Petrucci). The project was initially conceived as a vehicle to pay tribute to some of the group's favorite bands - The Grateful Dead & Phish, but quickly evolved into something much more of an amorphous space for all members and collaborators to improvise and take musical risks in front of a live audience. Barely Peeled is an experiment in embracing the moment and the spirit of "jamming" and hope to capture that energy with each passing second of their performances.