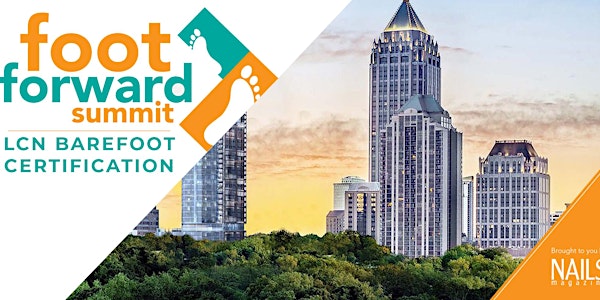 Barefoot Certification – Foot Forward Summit
When and where
Location
Hilton Atlanta Northeast 5993 Peachtree Industrial Blvd Peachtree Corners, GA 30092
Refund Policy
Contact the organizer to request a refund.
Description
BAREFOOT IS COMING BACK TO FOOT FORWARD SUMMIT!
Join hundreds of professional nail technicians who have taken the LCN Barefoot Certification Class and offer this highly sought service. You will leave this class with an acute awareness of who your potential Barefoot clients can be, the confidence for proper application, and the integrity knowing you are performing a service to your clients which will not only bring you $$$ in your pedicure chair, but change the way your clients looks at their feet! This is a game changer!
LCN Barefoot is a true breakthrough in cosmetic toenail correction made possible by the development of modern corrective materials. Barefoot is highly effective for the treatment of toenails right in your own salon or spa. As the beauty industry's #1 pedicure restoration gel, Barefoot is a means to restore the toenail partially or completely while providing an attractive cosmetic result.
As the beauty industry's only light-curing, one-component pedicure resin, Barefoot is a means to restore the toenail partially or completely while providing an attractive cosmetic result. Barefoot contains the ingredient Piroctone Olimine, a proven anti-mycotic substance that is time-released to keep working, even after the product is cured. Due to the flexibility of Barefoot, the product adjusts to the movements of the nails and feet, thus feeling completely comfortable and natural. Available in five shades: clear, pink, opal, pastel, and our camouflage colour cool pink. Barefoot can be used to match any nail type and provide coverage for even the most unsightly nails.
Our hands-on training includes:
Proper Diagnosis of suitable candidates
Proper Prep and Sanitization
Application for Cosmetic Purpose
Application for Corrective Purpose
Proper Maintenance
You will leave this class knowing:
How to add $50-$125 in 15 minutes
Bootcamp style training on how to achieve application in that 15 minute timeframe
How to increase or develop your referral relationships with local podiatrists
New techniques specifically designed to create a natural looking prosthetic toenail
Class Fee $189 (includes kit*) with certification
Class kit includes: Connex Silver Plus, 5ml; Barefoot-pastel, 5ml; Barefoot-clear, 5ml; PediSeal-clear, 5ml; Connex Brush; Flat Gel Brush. Also included in your training kit are Soft Landing Towel/Wipes, Curettes, Swabs, Cleaner, Super Shine Cleaner, Red Nail Polish, Practice Foot, Literature Packet and Pink Pearl Gloves (2).
Attendees must bring UV/LED Light Unit, Table Lamp, Extension Cord, favorite Gel brush, Nippers and Files.