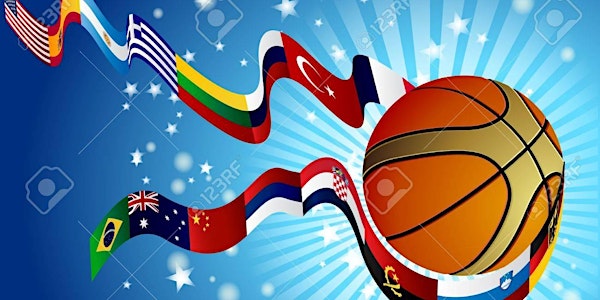 Barcelona Youth Euro Basketball Cup
Euro Youth Basketball Cup is one of the most prestigious youth basketball tournaments!!!
When and where
Location
Ciutat Esportiva de Blanes 43 Carrer Mas Cuní 17300 Blanes Spain
About this event
                    MAXHOOPSKILLS presents
The 2022 Barcelona Basketball Experience - YOUTH EURO BASKETBALL CUP!
                                                Over 70 Teams From Over 20 Countries
Join us on this once in a lifetime adventure and take your youth athlete to international competition with MaxHoopSkills!!!  This  is an international basketball travel experience that goes above and beyond all expectations of coaches, players, and parents all while traveling the world! Teams are encouraged to register along with a coach.
The 2022 destination is in the beautiful city of Barcelona, Spain. Competitions and training sessions will be held in four primary locations around the city. All transportation to and from scheduled events (provided within the tour) is included. Teams and coaches will be hosted by members of Spain's leading basketball authority and enjoy an authentic Spaniard basketball experience.
This youth basketball experience is available to boys and girls youth teams ages 12-18 years old. Teams should consist of at least 8 players and must be accompanied by a coach. Each team will play a minimum of 4 matches and receive a tournament gift. Family members, friends, and supporters are also invited!  This is a FAMILY-FRIENDLY ADVENTURE!
THE 2022 YOUTH Euro Cup will be held the 3rd weekend of June 2022!
REGISTER NOW!!!!!
REGISTRATION FEE:  $250 USD per person ***** Due: May 4, 2021
TOTAL TRIP:
$999 USD per player(flight not included)
$799 USD for friends and family (flight not included)
REGISTRATION FEES COVER THE FOLLOWING:
Administrative fees
Event confirmation and reservation
Ground transportation reservation
Reservation for 4-hour Panoramic City Tour of Barcelona, Spain
Payment Options:
After receipt of your $250 registration fee:
OPTION 1: You can pay the remaining balance in full by May 20, 2022
OPTION 2: You can pay the remaining balance in 2 scheduled installments
OPTION 3: You can pay the remaining balance in 3 scheduled installments
These options will be provided for you in an additional confirmation email to give everyone an opportunity to chose how they would like to handle their payments. Many teams are using fundraisers such as FLIP GIVE to help lower the expense for everyone!!
All payments for remaining balances will be invoiced for record keeping purposes via paypal and can be sent to: www.paypal.me/coachld
Final payments are due no later than May 20, 2022.
**All pricing is on a per person basis**  ** Flight is NOT included**
                                                          FAQs
                                       (Frequently Asked Questions)
Is airfare included?
Airfare is not included due to individuals possibly having flight and/or travel points with their preferred airline.   If you would like to book your team as a group for flight travel, please feel free to use our travel agent, April Powers - 704-817-4414 - you can also book a complimentary consultation online at: www.aprilpowerstravel.com.
 Are there ID requirements? An age limit to travel?
Individuals MUST have a valid passport from their country of residence. Everyone with a valid passport is welcome. To participate in team activities,teams must be between the ages of 12 and 18 years old.
 What does ground transportation mean?
Ground transportation applies to transportation from the airport in Barcelona, to the hotel, and to all scheduled events.  Please be sure to submit your flight itinerary upon completing payments for the trip.
What about the language barrier?
The citizens of Barcelona, Spain speak English as a second language. We encourage individuals to learn simple words and phrases such as numbers, greetings, and most importantly how to ask "Where is the bathroom?" Don't worry about sounding silly; attempting a conversation is more important than sounding perfect and people appreciate visitors who try to speak their native language.
 Where can I contact the organizer with any questions?
Direct inquiries directly to us on our Eventbrite page. Inquiries answered within 48 hours.
 Is my registration/ticket transferrable?
Yes, as long as you notify the organizer 90 days prior to the departure date.
 What is the refund/cancellation policy?
$150 USD of your registration fees are NON-REFUNDABLE!  Please be certain about your participation. Cancellation notice must be submitted by August 30, 2021.
 Is this Experience for teams only or can individuals register as well?
The 2022 Experience only offers game schedules and skills training sessions to teams. Team members may be accompanied by anyone who registers and has a valid passport.
What does the basketball tour include?
The tour includes accommodations for your basketball team, accompanying coaches, and family and friends who join us for 6 days and 5 nights in Barcelona, Spain. Every player will get a bottle of water for games, Teams/Coaches will receive an itinerary including sanctioned competitions. and daily activities. The group as a whole will also be given a tour of the beautiful city of Barcelona. The package also includes 3 meals per day (buffet) and all transportation related to the tour.  Cups and MVP awards will be given to the best teams and players of the tournament, immediately following the final matches of the 2022 Euro Youth Basketball Cup.
Are there additional excursions available?
Yes. Other family-friendly excursions are available, for an additional cost. Feel free to send an inquiry if interested.
 What if the event is cancelled?
Although we don't anticipate any challenges that would cause The Experience to be cancelled, we do offer a money back guarantee should we have to cancel.
 Can I extend my trip to stay after this experience has come to a close?
YES! All expenses beyond the tour dates would be your sole responsibility.
 When do I receive a final itinerary for the tour?
The final itinerary will be provided approximately 2 weeks prior to departure.
 Can I get a discount for unused days if I leave earlier or come later?
No. We are able to provide The Experience at such a great price because of how it is packaged; deal cannot be divided or discounted further.
What rules are recognized for competition?
We will use FIBA rules for all competitions. That includes FIBA's guidelines on birthday/age regulations. Player must be the age of definition (i.e. must be 12 years old to play in U-12) as of the year of competition, year starts January 1st.  For example, the age limit for U-18 in a competition in 2017 shall be: 2017 - 18 = 1999. Any player born on or after January 1, 1999 will be allowed to participate in a competition for U-18 in 2007.
If I do not attend with my child, who will serve as chaperone?
Your team's coach and team mom will be ultimately responsible for team member's traveling alone. MaxHoopSkiils will also provide a tour guide to each group.
Where exactly is the competition to be held?
The tournament will be hosted in 3 different towns in the northern coast of Barcelona: Mataró, Pineda de Mar, and Calella. In your free time teams can enjoy the amazing beaches of Costa Brava, the city of Barcelona and visit the Camp Nou Stadium, the Sagrada Familia, Las Ramblas, Plaza Espanya, Montjuïc and much more.
Terms and Conditions:  
Each individual registration confirms a reservation for the tour. Please use the provided PayPal option to submit the registration payment. Pricing and payments are at a per person rate.  We ONLY accept PayPal payments as it protects both you as the purchaser, and us as a service provider.