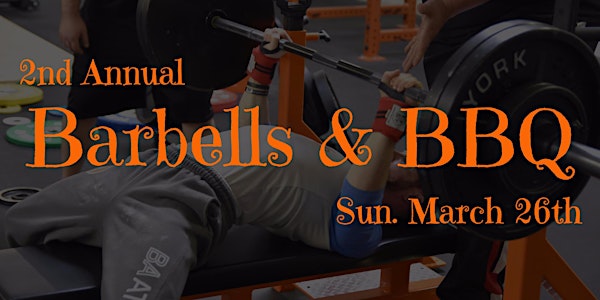 Barbells & BBQ 2017
When and where
Location
Power Plant Gym 10 Crozerville Road Aston, PA 19014
Refund Policy
Contact the organizer to request a refund.
Description
Lift weights and eat BBQ!


We're back for Round 2 of Barbells & BBQ! This year will feature all the things you loved from last year - heavy weights, great atmosphere, delicious food, and plentiful adult beverages - plus some exciting changes!
We will have 2 divisions:
- Push-Pull (men's and women's divisions)
- Push-Pull TEAM (same-sex, 2-person teams)

Logistics...
We will run 2 platorms. Weigh-ins start at 8am. Rules meeting at 9:15am. Lifting starts at 10am. End time will depend on number of registrations. This event is completely unsanctioned and just for fun, but we will enforce basic lifting standards. Bench press must start locked out, touch the chest (NO pause or press command), and finish locked out. Deadlifts must be fully locked out (knees and hips) and replaced to the floor under control (no dropping!). Singlets are NOT required! Just don't wear anything too baggy because we need to see lockouts. Of course, if you want to wear a singlet, please feel free :)
Awards and Scoring...
We will award prizes to top 3 individual men, individual women, men's teams, and women's teams based on Wilks. Teams will be scored as follows: 1st person benches (record heaviest successful attempt), 2nd person deadlifts (record heaviest successful attempt), bodyweight is the AVERAGE of the 2 lifters' bodyweights, and Wilks will be calculated like the team is an individual person.

Food and Drink (the important part!)
PPG will provide BBQ meats, a couple sides, and non-alcoholic beverages. We usually have a beer sponsor, and we'll confirm that in the near future. We encourage participants to bring your favorite BBQ sides and/or desserts as well as adult beverages.

Registration:
$35 Individual Eat and Lift
$65 Team Eat and Lift
$20 Individual Eat and Spectate
LIMITED to 50 INDIVIDUAL LIFTERS and 20 TEAMS!

Yes, we do need EVERYONE who is planning to attend to register ahead of time so we have an accurate head count for food.

Questions? Email info@thepowerplantgym.com.
We're looking forward to seeing everyone!!!