Description

Barbara Yates Beasley
Boulder, Colorado, USA
www.barbarayatesbeasley.com
A love for the animal kingdom has always been a guiding principle in Barbara's fabric collages. From a wild collection of fabric the personality of her subjects takes shape. Many animals sport crazy colors that express their freedom to be themselves, and not just be a part of the pack.
With her camera always at the ready, Barbara captures images of animals wherever she goes. These later become the basis for her patterns and a roadmap to the soul of the animals. Barbara is sensitive to how her subject is feeling and transforms that into a piece that tells a story. In her pieces you can see how the turn of a head or the look in an eye can communicate volumes between species.
By capturing and communicating a sense of joy or connection and highlighting the animal world around us, Barbara hopes to foster a deeper understanding and compassion for the animals—and for ourselves.
Barbara has exhibited her artwork in venues across the United States, including solo shows in Colorado. Her work has been published in magazines and is held in private collections.
You can find more of her work and blog on her website.

Animal Portrait/Creating Your Own Pattern
from a Photograph Class
Barbara Yates Beasley
barbara@barbarayatesbeasley.com
*Ticket description says 4 days & 3 nights. That is our standard retreat, this is an exception!!! You will have 6 days & 5 nights.
If pets are not your area of interest bring a photo of a flower or other object. Think Georgia O'Keeffe size flower.
Supply List
Kit Fee: $15 covers harder to find items I provide
The Ed Center has sewing machines for you to use.

• Lightweight muslin, enough to use as a base.

• Assorted fabric scraps. Bring more then you think you need and in a variety of colors. Nothing over a fat quarter in size. Be sure you have a full range from light to dark fabrics.

• Lite Steam-a-Seam 2 fusible. Made by The Warm Company, please no substitutes. (Warm Company has donated 1 packet of sheets for each student. This may not be enough for you to finish your project.)

• Your photo enlarged to the finished size of your quilt. No less than 11" x 17". But no larger than 19" x 24". See Prep Work below.

• Second copy of your photo in color and reversed. If the animal is looking right in the original, he should be looking left in this copy. (This is optional, it will help if you have a problem thinking in reverse.)

• Sharp embroidery scissors, paper and/or fabric scissors

• Foam core to use as a design board. This should accommodate the size or your work. I find that a harder surface is better than a padded surface.

• Tweezers , Stiletto or Purple Thang (optional)
Prep Work:
Before the class, pick a favorite photo of your animal. It should be clear and sharp with a good value range. I strongly suggest that you DO NOT posterize or otherwise limit the value levels in your image. If the image is dark and you have the software to lighten it a bit that is OK. The animal should fill the frame. If the eyes are an important part of the photo be sure you can actually see them. Keep it simple.
Have this enlarged to the size you would like to work with, but no more than 19" x 24". The enlargement is best in color. I am happy to give input on images and cropping before class. Email your photo file to me at barbara@barbarayatesbeasley.com
Enlargements can be done at Kinko's, Staples, Office Max, Walgreens, Costco that type of store. I hear that Costco may be the cheapest option. Often you will have better luck getting a clear print if you bring a hi-res file to the store on a thumb drive. You can also print it out on your home printer in tiles and tape it together.
For more information:
Cindy Morris
Retreat Coordinator Extrodinaire
Missouri Star Quilt Company Retreat Center
816-265-1812
lucinda.morris@missouriquiltco.com
For Special Diets contact: susan@missouriquiltco.com
Meals -The first of 11 meals begin Tuesday evening. Our breakfast are served from 7:30 - 9:00 am and includes cereal, oatmeal, toast, bagels, yogurt, cottage cheese, hard boiled eggs, & fresh fruit. Lunch and dinner will be provided by our local caterers. Lunches are served at noon Dinners will be served at 6:00 pm
Snack Table - There will be a snack sharing table. Feel free to bring your own favorite munchies or special non-alcoholic drinks to share. There is coffee, tea, water, and ice available for us. We do have use of the kitchen area except when the meals are being served. The kitchen has a refrigerator, oven, microwave, and dishwasher that we can use. If you have a favorite cup you like to use, please consider bring it. (Retreat Center has gone to all paper products.) Please be considerate to others and clean up after you use the kitchen.
Shipping - There is free shipping for all of our guests who spend over $100 in the shops.
---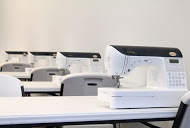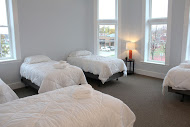 PLEASE NOTE:
All rooms upstairs are shared rooms. NO PRIVATE ROOMS.
Ages 18 and over please.
Our sleeping rooms are on the second floor of the Retreat Center and are only accessible via stairs. They are shared rooms, configured in several different ways from rooms that have three twin beds, to a room that sleeps six. There are six individual, private bathrooms, each with a shower, toilet and sink, just steps away from the sleeping rooms that are shared by all the guests on the second floor. We also have two sleeping rooms located on the main floor, each with two twin beds and its own bathroom, that we reserve for individuals who cannot physically climb the stairs to the second floor. We are located 15 minutes east of I-35 and MO Hwy 36, approximately 60 miles north of Kansas City. If you are flying in, you'll want to fly into Kansas City International airport. We are a little over an hour from the airport.
Shuttle Options: Inn Transit 816-295-8606
Nate Fish 816-527-3037 (Uber Driver) (Jenny's Brother)
Liz Manely 816-351-9172 (Shuttle Driver)
Men are welcome at all of our quilting retreats. In our retreat center we have the following sleep accommodations:
8 sleeping rooms in the main retreat center that share 6 communal restrooms.
2 rooms with their own restroom that are accessible for individuals with disabilities.
1 sleeping room with 8 beds in our mini-retreat center with access to 2 communal restrooms.
We assign the rooms with the communal restroom facilities in the main retreat center to individuals of the same gender. Often women are assigned to these rooms in the main retreat center because more women register for the retreats, but if enough men registered, we would assign men to these rooms. We reserve the accessible rooms for individuals with a disability, but make these rooms available to another guest (male or female) if no individual requests an accessible room. The sleeping room in the mini-retreat center is assigned to a group of the same gender to share the sleeping room and communal restrooms. The rooms in the mini-retreat center are often assigned to individuals of the opposite gender from those assigned to the main retreat center.
Missouri Star Quilt continues to explore retreat offerings that meet our customer's interests and demands. We hope you will consider joining one of our retreats.

WHAT WE'LL PROVIDE:
+ 8 Meals
+ Unlimited access to our spacious and well-lit sewing space
+ Tables for cutting
+ Ironing boards and irons
+ Sewing tables and electrical outlets
+ A full kitchen (microwave, stove, refrigerator, freezer, dishwasher)
+ Dishes, mugs, flatware
+ Cofee & fruit infused water
+ Super comfy, cozy beds
+ Bed linens and towels
+ Sewing machines available for use during retreat
+ "Sewing essentials" kit (cutting board, rotary cutter, ruler, scissors) available for use during retreat as available.
WHAT TO BRING:
+ Sewing machine (optional, we do have machines available to use)
+Thread if you are using our Babylocks
+ Power strip or extension cord
+ Cutting board, cutter, rulers, scissors (optional, we have "cutting tools" to use)
+ Ironing board and iron (optional -- we will have some available for use)
+ Food or Soda (dining options listed above and Hy-Klas Grocery Store 1/2 block from the retreat center)
+ Casual, comfy attire
+ Personal toiletries, blow dryer, ear plugs and pj's
+ Something cushy for your "tushy" (optional)
+ Personal sewing lamp (optional)
REFUND POLICY: This is a NON-REFUNDABLE REGISTRATION. In the event that you register than are unable to come, you may transfer this registration to someone else.

QUESTIONS? Contact us at lucinda.morris@missouriquiltco.com