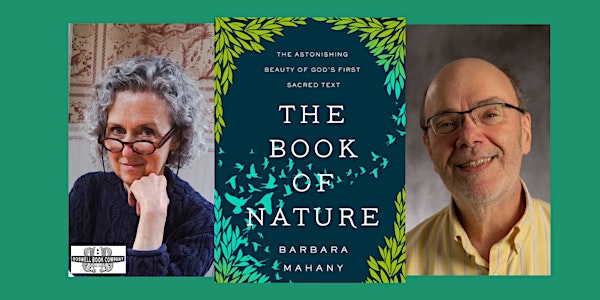 Barbara Mahany, author of THE BOOK OF NATURE - an in-person Boswell event
Barbara Mahany, author of THE BOOK OF NATURE - an in-person Boswell event
Date and time
Starts on Tuesday, June 20 · 6:30pm CDT
Location
Boswell Book Company 2559 North Downer Avenue Milwaukee, WI 53211
About this event
Boswell Book Company presents an evening with Barbara Mahany, author of The Book of Nature: The Astonishing Beauty of God's First Sacred Text. In conversation with Jim Higgins of the Milwaukee Journal Sentinel.
Throughout millennia and across the monotheistic religions, the natural was often revered as a sacred text. By the Middle Ages, this text was given a name, "The Book of Nature," the first, best entry point for encounter with the divine. The very act of "reading" the world, of focusing our attention on each twinkling star and unfurling blossom, humbles us and draws us into sacred encounter. As we grapple to make sense of today's tumultuous world, one where nature is at once a damaged and damaging source of disaster, as well as a place of refuge and retreat, we are called again to examine how generously it awaits our attention and devotion, standing ready to be read by all. Weaving together the astonishments of science; the profound wisdom and literary gems of thinkers, poets, and observers who have come before us; and her own spiritual practice and gentle observation, Barbara Mahany reintroduces us to The Book of Nature, an experiential framework of the divine.
Pádraig Ó Tuama, host of Poetry Unbound: "Attention is among the deepest forms of integrity. In The Book of Nature, Barbara Mahany pays attention. She doesn't look through nature; she looks at nature and, there, sees the mysteries that make and unmake us. In an age of environmental threat and neglect, Barbara Mahany's book is a theological, poetic, and devoted plea for attention to our most fundamental constitution: matter - and everything that comes from it, including us."
Barbara Mahany is an author and freelance journalist beloved for her features and writing that appeared in the Chicago Tribune for almost thirty years. She is known for her writing at the intersection of nature, spirituality, interfaith considerations, and family. She is the author of Slowing Time: Seeing the Sacred Outside Your Kitchen Door.
Click here to order your copy of The Book of Nature from Boswell. Signed copies and personalization available on pre-orders. Please note that signed copies will not be shipped until after the event.