Description
Raise your geek flag high, pledge your loyalty to either the Empire or the Rebellion and join us in Savannah for Markster Con's infamous BAR WARS PUB CRAWL on May the 4th (Be With You). Incorporating numerous bars in Georgia's oldest city, this will be the only way to celebrate International STAR WARS DAY on May the 4th (Be With You), 2019. Join hundreds of your fellow galactic geeks to celebrate one of the most special days the Galaxy can offer (NOTE: it'll be 6 more years before this date falls on a weekend so let's celebrate it properly!)

FREE COLOR-CHANGING LIGHTSABER w/sound:
• If you purchase your ticket before April 14th, 2019 you'll have one of these powerful sabers available for pick-up at registration on May 4th. Each one has color-changing options and sound!

LIGHT OR DARK SIDE KEEPSAKE BADGES:
• Which side will you pick? Upon ticket check-out let us know if you want a "Dark Side" or "Light Side" event badge and we'll have it waiting for you at Registration, also comes with a lanyard!

THEMED DRINK/SHOT SPECIALS (exclusive to attendees with badge):
• TBA

BAR WARS Commemorative 1.25" pin:
• For pick-up at registration (design TBA)

BAR WARS Commemorative t-shirt:
• Optional purchase (design shown below, two color options, sizes XS-XXXL unisex)

GALACTIC PHOTO OPS (exclusive to attendees with badge):
• TBA

PARTICIPATING PUB STOPS:
• TBA

REGISTRATION PUB:
• Vice Lounge + Mojito Bar

AFTER-PARTY:
• TBA

* MORE INFO TO COME! *

OTHER UPCOMING EVENTS:
• Jan. 26h, 2019: Unicorn Pub Crawl (Savannah)
• Feb. 23th, 2019: Crawl Of Thrones (Savannah, GA)
• April 12th, 2019: Wizard Prom (Savannah, GA)
• April 13th, 2019: Wizard Pub Crawl (Savannah, GA)
• July 6th, 2019: SuperHero Pub Crawl (Savannah)
....more to come!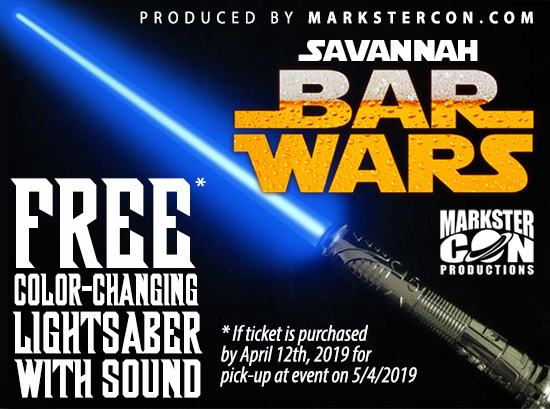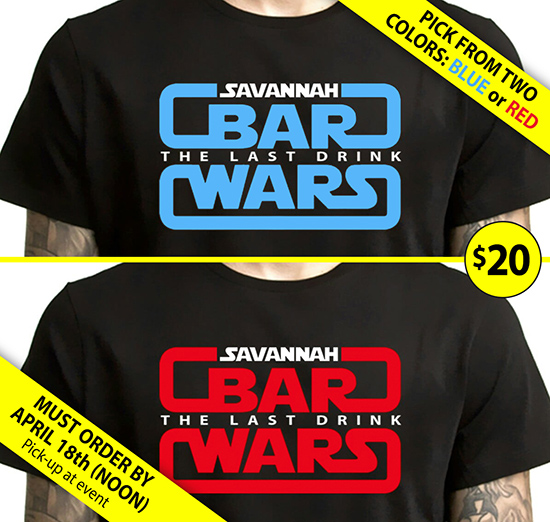 DISCLAIMER: This event is in no way affiliated with Disney Inc. or Lucasfilm Ltd.