Description
Sunset and Salsas
Enjoy fellowship, food, beverages, music, and fun with your fellow Republican Bar-W members, friends, and elected officials. Our hosts, Commissioner Jen and Dr. Michael Crownover, welcome you to their home on Saturday, October 14th from 5:00 - 7:00 PM to relax with friends, enjoy an incredible view of the setting sun over the hilltops of western Comal County, sample Bar-W chefs' salsas, a nacho bar, and a live band. Local area elected officials will serve as judges for the salsa (food, not dance!) competition.
Attendee tickets ($25 per person or $40 per couple) include event attendance, food, beer/sangria tickets. Republican elected officials are invited to support the event through "Sunset," "Hilltop," or "Panoramic" sponsorships.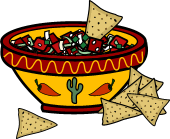 Politcal advertising paid for by Bulverde Area Republican Women. Contributions are not deductible for Federal income taxes and are not charitable contributions. Corporate contributions are not permitted by law. Not authorized by any candidate or committee.