Baptiste Inspired Power Flow with Christian Allaire @ Yoga Journal LIVE San...
Description
Hatha based power vinyasa flow with an entry point of the physical with the intention to inspire a great reach into human potential. The Baptiste Methodology is centered on a principle of leaders causing leaders who cause leaders. As I always point out to my students, yoga is a personal development system on steroids.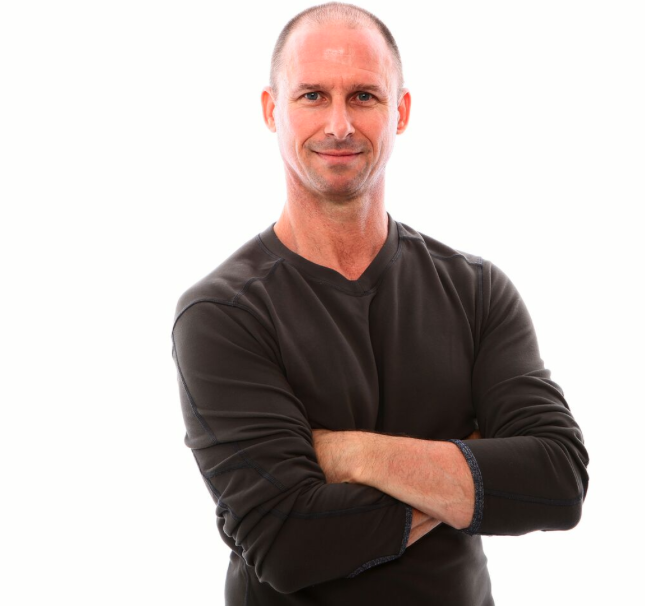 VETERAN TURNED YOGI. CHRISTIAN ALLAIRE WAS BORN IN MICHIGAN AND RAISED IN THE SUBURBS OF PHILADELPHIA. HE RETIRED FROM THE U.S. COAST GUARD IN 2008 SERVING 20 YEARS ON ACTIVE DUTY ACHIEVING THE RANK OF SENIOR CHIEF. AFTER TAKING A 3 PLUS YEAR SAILING SABBATICAL ABOARD HIS 32 FOOT SAILBOAT CHRISTA, SOLO SAILING 7000 MILES FROM NEWPORT, RHODE ISLAND TO THE CARIBBEAN, TOUCHING NEARLY EVERY ISLAND IN THE EASTERN CARIBBEAN, HE ENROLLED AND GRADUATED SUMMA CUM LAUDE FROM DOMINICAN UNIVERSITY OF CALIFORNIA IN SAN RAFAEL, MAJORING IN THE HUMANITIES AND PHILOSOPHY. WHILE ON ACTIVE DUTY IN CALIFORNIA, STATIONED AT LAKE TAHOE, SAN FRANCISCO'S YERBA BUENA ISLAND AND ALAMEDA, CHRISTIAN STARTED TO GROW ROOTS IN THE SAN FRANCISCO BAY AREA, BUYING A HOME IN GLEN ELLEN IN THE CALIFORNIA WINE COUNTRY. AFTER LIVING ABOARD HIS SAILBOAT FOR SEVERAL YEARS IN SAUSALITO, HE WAS TRANSFERRED (WITH BOAT AND ALL) TO CAPE CODE MA WHERE HE ULTIMATELY RETIRED AND SAILED SOUTH TO WARMER CLIMES ATTEMPTING TO SAIL AROUND THE WORLD. SINCE RETURNING TO THE GOLDEN STATE TO PURSUE HIGHER EDUCATION, CHRISTIAN HAS QUICKLY ASSIMILATED INTO LIFE IN NORTHERN CALIFORNIA. HE BECAME A POPULAR AND SOUGHT AFTER YOGA TEACHER, LEADING CLASSES AT RED DRAGON YOGA IN SAN RAFAEL AND MILL VALLEY SEVERAL YEARS. CHRISTIAN TEACHES AT BAPTISTE YOGA SAN FRANCISCO AND NOW:NEW OM WORLD YOGA STUDIO IN MARIN COUNTY. CHRISTIAN HAS A DEEP PASSION FOR LEADERSHIP AND ITS CONNECTION TO, EARNING A MBA IN STRATEGIC LEADERSHIP FROM THE BAROWSKY SCHOOL OF BUSINESS AND AN UNDERGRAD DEGREE IN PHILOSOPHY. CHRISTIAN HAS BEEN A FULL-TIME YOGA TEACHER SINCE 2011, IS A RETIRED COAST GUARDSMAN, FORMER MASTER MARINER, MORTGAGE BANKER, CHARTER BOAT CAPTAIN AND IS A PASSIONATE AMATEUR PHOTOGRAPHER, IS A VORACIOUS READER, TECHNOLOGIST AND SOCIAL MEDIA ENTHUSIAST. CHRISTIAN CAN BE FOUND ON THE MAT OR IN FRONT OF A CLASS OR ROAMING THE EARTH ON HIS BMW GS 1200R MOTORCYCLE.