Description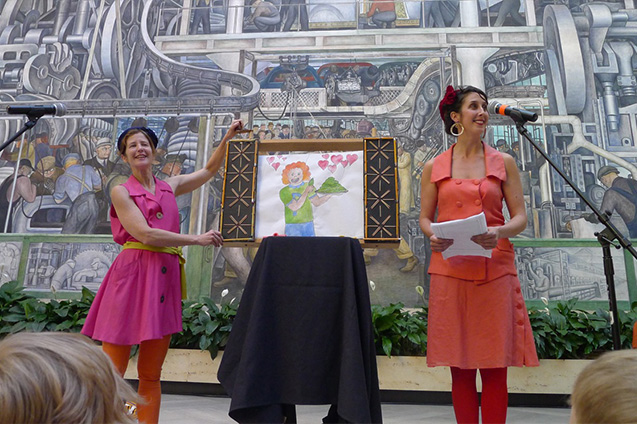 This event presents cantastoria and cranky shows in the grand tradition, geared towards family audiences, with live music, moving pictures, and lots of stories.
---
Cantastoria is the Italian word for an ancient performance form involving the theatrical display of paintings accompanied by sung narration. A precursor to modern puppet theater, this practice originated in 6th Century India and spread East and West, with many different variations in style and subject matter.
Recently there has been a revival of interest in Cantastoria among puppeteers, artists, and activists in the West, who find that this ancient form has startlingly modern qualities and can easily be infused with fresh content. The use of the cranky (a sister to the cantastoria in which the images appear on a scroll which is turned by means of a crank) has also lately grown popular among folk musicians and artists looking for new ways to perform their songs and display their artwork in a performance context. Banners and Cranks is committed to the concept of a nomadic festival, both because it is in keeping with the historic itinerant roots of the performance form, and also because they hope that the fest will reach new audiences of makers and thinkers who have never seen cantastoria before, inspiring the uninitiated to take up the form and invent fresh approaches to the magic of the cranky and the picture story.
This is a living and breathing folk performance practice that has its own particular place alongside the technology and media of the 21 st century.