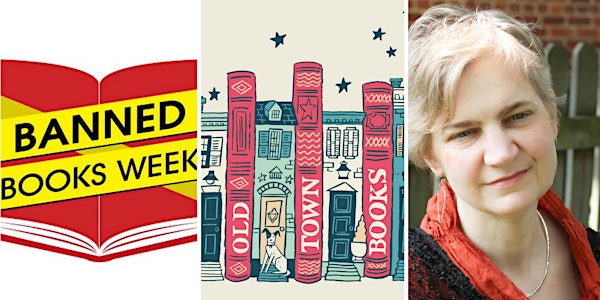 Banned Books Week Reading with Katherine E. Young
Celebrate banned books week with poet and translator Katherine E. Young, reading from her translation of Akram Aylisli's Farewell, Aylis.
When and where
Location
Old Town Books 104 South Union Street Alexandria, VA 22314
About this event
Old Town Books is celebrating Banned Books Week, which highlights banned and challenged books around the world in order to raise awareness in the fight against censorship! Join us for a talk and reading with poet and translator Katherine E. Young. Katherine will be reading from her translation of Farewell, Aylis by Akram Aylisli, which has been banned and censored in its native Azerbaijan, yet has still become a political phenomenon there.
About Katherine E. Young: Poet and translator KATHERINE E. YOUNG served as the inaugural Poet Laureate of Arlington, Virginia, from 2016-2018. She is the author of Day of the Border Guards (University of Arkansas Miller Williams Prize Series, 2014), one of Split This Rock's "eagerly anticipated" picks for 2014, one of Beltway Poetry's "Best Books of 2014,″ and an Honorable Mention for the North Carolina Poetry Society's Brockman-Campbell Award and two chapbooks. Young's poems and reviews have appeared in Prairie Schooner, Shenandoah, The Iowa Review, and many others.
Young was named a 2017 National Endowment for the Arts Translation Fellow for her work on a trio of novellas by Akram Aylisli (Azerbaijan), Farewell, Aylis. Her translation of Russian poet Xenia Emelyanova won third place in the 2014 Joseph Brodsky-Stephen Spender Prize competition. Translations of Inna Kabysh won third place in the 2011 Joseph Brodsky-Stephen Spender Prize competition and were commended by the judges of the 2012 Brodsky-Spender Prize. Blue Birds and Red Horses, a chapbook of Inna Kabysh's poems, was published by Toad Press in 2018. A dual-language iPad edition of Kabysh's poetry that includes both text and audio, Two Poems, was published by Artist's Proof Editions in 2014; a full-length collection of Kabysh's work, Cat and Mouse, was named a finalist for the Cliff Becker Book Prize in Translation. Young's translations of Vladimir Kornilov appear in The Penguin Book of Russian Poetry. Individual translations have appeared in The Notre Dame Review, The White Review, Words Without Borders, and many others. In 2015 Young was named a Hawthornden Fellow (Scotland).
About the book: The three novellas of Farewell, Aylis take place over decades of transition in a country that rather resembles modern-day Azerbaijan. In Yemen, a Soviet traveler takes an afternoon stroll and finds himself suspected of defecting to America. In Stone Dreams, an actor explores the limits of one man's ability to live a moral life amid conditions of sociopolitical upheaval, ethnic cleansing, and petty professional intrigue. In A Fantastical Traffic Jam, those who serve the aging leader of a corrupt, oil-rich country scheme to stay alive.
In 2017 Katherine Young was named a 2017 National Endowment for the Arts (NEA) Translation Fellow for her project to translate the entire trilogy of Aylisli's novellas. The trilogy was published by Academic Studies Press in 2018. Farewell, Aylis also includes a new essay by Akram Aylisli that reflects on the political firestorm surrounding his novellas and his current situation as a de facto prisoner of conscience in Azerbaijan that was commissioned especially for the Academic Studies Press edition.