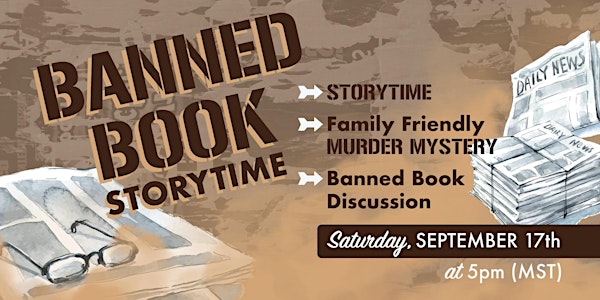 Banned Book Party
40's Themed Party: Storytime, Family-Friendly Murder Mystery, Banned Book Discussion, Food&Drinks, Raffle Prizes. Inside Event-RSVP Required
When and where
Location
Second Star to the Right Children's Books 1455 S. Pearl Street Denver, CO 80210
About this event
Should books be banned? fREADom is what we ask for at Second Star...we read banned books!
Join us Saturday, September 17, for a 40's themed Banned Book Party. Costume & Dress-up encouraged, but not required.
There will be a storytime of banned picture books, followed by a family fun murder mystery (think slap-stick comedy, and red yarn for blood). We will also have a discussion on banned books with author, Lily Williams, whose book Go With The Flow has recently been banned in Texas (see below for book information/buying).
Food & Drinks will be provided.
Raffle Prize Giveaways.
Go With The Flow (Click The Title To Purchase The Book)
High school students embark on a crash course of friendship, female empowerment, and women's health issues in Lily Williams and Karen Schneemann's graphic novel Go With the Flow.
Good friends help you go with the flow.Best friends help you start a revolution.
Sophomores Abby, Brit, Christine, and Sasha are fed up. Hazelton High never has enough tampons. Or pads. Or adults who will listen. Sick of an administration that puts football before female health, the girls confront a world that shrugs—or worse, squirms—at the thought of a menstruation revolution. They band together to make a change. It's no easy task, especially while grappling with everything from crushes to trig to JV track but they have each other's backs. That is, until one of the girls goes rogue, testing the limits of their friendship and pushing the friends to question the power of their own voices.Now they must learn to work together to raise each other up. But how to you stand your ground while raising bloody hell?