Join the SBA Minnesota, North Dakota and South Dakota District Offices for the Money Smart Business Management Series.
About this event
After completing this class, participants will be able to understand the following:
The benefits of building effective long-term relationships with bankers (branch managers and lenders) and business advisors
Factors to consider when selecting a financial institution
Features, advantages, and risks associated with the financial services and products under consideration
Types of small business financing options and lenders
Factors to consider when evaluating financing options
Ways to improve their chances of getting a loan, including building a strong personal and business credit history, keeping accurate business records, and understanding the Five C's of Credit
Ways to recognize and avoid small business fraud, scams, and cybersecurity risks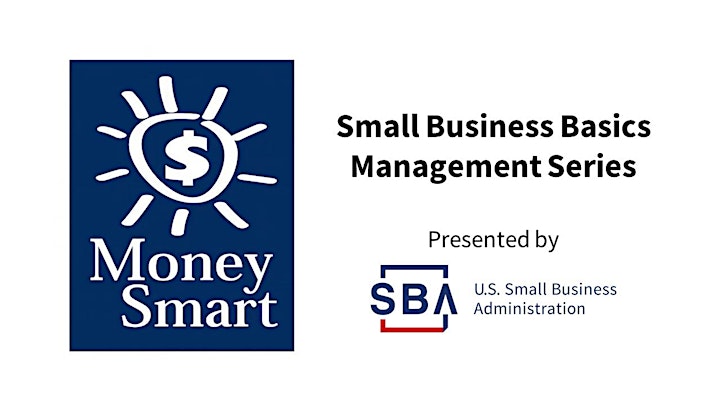 Money Smart introduces core skills for successful small business management.
The 13-Part Money Smart Series includes the following sessions:
Is Owning a Business a Good Fit for You?
Planning for a Healthy Business
Banking Services
Organizational Types
Time Management
Financial Management
Recordkeeping
Strong Business Credit
Risk Management
Insurance
Tax Planning and Reporting – understanding taxes and your business
Selling Your Business and Succession Planning business
Managing Cash Flow
Organizer of Banking Services - SBA Money Smart Series
The U.S. Small Business Administration makes the American dream of business ownership a reality. As the only go-to resource and voice for small businesses backed by the strength of the federal government, the SBA empowers entrepreneurs and small business owners with the resources and support they need to start and grow their businesses. It delivers services to people through an extensive network of SBA field offices and partnerships with public and private organizations.