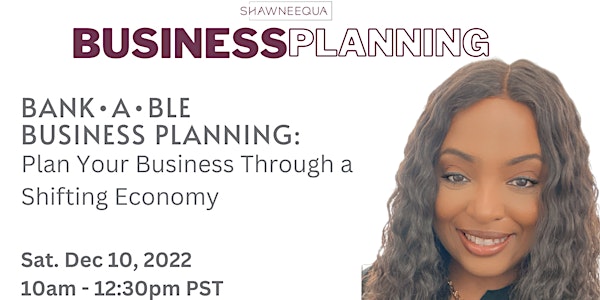 Bankable Business Planning: Plan Your Business Through A Shifting Economy
Looking to build a business or expand one you're already running? This session is design to help you get clear on your 2023 action plan.
About this event
Don't be like everyone else who waits until next year to start putting their business plan in place and then fizzles out by the time February hits.
Now is the time to solidify your strategy and execute so that you have momentum heading into 2023.
Great execution requires serious planning, especially as your team grows. Making clear strategic decisions and aligning everyone to the same goals are powerful force multipliers for your business.
Strategy is just the bigger decisions that make your execution better.
Most important, your budget plays an integral role in helping you make financial decisions for your business, and it should be closely tied to your business plan. These financial decisions and outcomes will ultimately position you for business funding that will help you scale, grow and sustain.
Learning objectives:
Business Balance for a Designed Life
Build a go-to market strategy
Design the foundation for your strategic plan
Developing your vision and mission
Setting attainable goals you can sustain
Targeted execution plan
Business Budgeting
Business planning for capital funding - get that business funding!
Let's GROW all the way to the bank!