Make bánh chưng for the Lunar New Year.
About this event
The Bánh Chưng Collective is virtual this year and once again we've partnered with selected neighborhood restaurants and bakeries across the country to create take-home banh chung kits!
Your ticket includes:
Admission to our Zoom class on Saturday, January 29, 2022 at 10 AM PST/ 1 PM EST.
Bánh chưng ingredients: Sweet rice, marinated pork belly, mung bean-shallot paste, and banana leaves.
Bánh chưng supplies: paper banh chung molds, twine, and instructions for how to make banh chung at home
A signature Lunar New Year dish from a participating restaurant or bakery (serves 1-2)
Each kit makes 4 bánh chưng.
Choose one of our local partners and pick up your kits during the week leading up to the Zoom class:
CHICAGO: Sàigòn Sisters
DALLAS: Sandwich Hag (Dallas)
LOS ANGELES: Bé Ù (Virgil Village), Proof Bakery( Atwater Village), Yang's Kitchen (Alhambra)
NEW YORK: Đi Ăn Đi (Brooklyn/Greenpoint), Sàigòn Social (LES), Bạn Bè (Brooklyn/Carroll Gardens)
SAN FRANCISCO: Noodle Girl
SEATTLE: Garzón Latinx Street Food
ALL TICKET SALES ARE FINAL. PLEASE DOUBLE CHECK YOUR PICK UP LOCATION BEFORE CHECKING OUT AS NO REFUNDS WILL BE ISSUED.
On Saturday, January 29, 2022, join our big Zoom class and cook along with other bánh chưng lovers!!
After purchase, we'll provide a link to our Zoom class as well as details on how to schedule your kit pick up.
Don't worry if you've never made bánh chưng before. We'll have experienced bánh chưng makers to help guide you through the steps.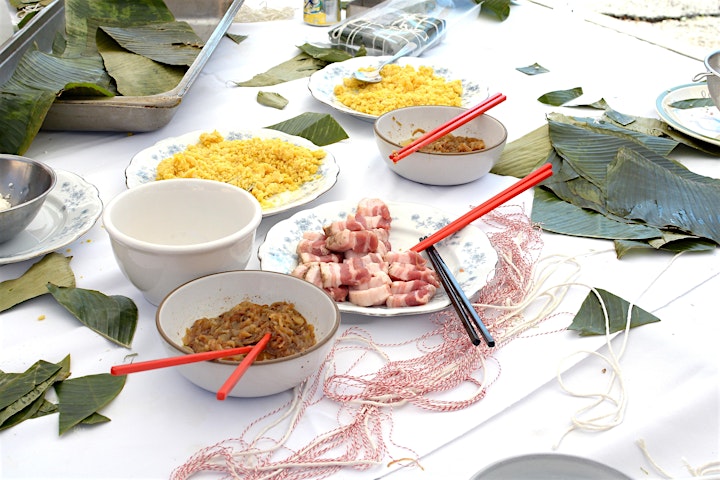 The Bánh Chưng Collective was born out of a desire to affirm and strengthen community bonds between women, LGBTQIA, and people of color. For the past few years, the Collective has convened friends and chosen family to celebrate Lunar New Year and make bánh chưng.
FREQUENTLY ASKED QUESTIONS
ABOUT THE BÁNH CHƯNG KITS
How does this whole thing work?
Kits with everything you need to make bánh chưng will be available at participating restaurants and bakeries in Los Angeles, San Francisco, Seattle, Chicago, Dallas, and New York. Each kit also includes a little treat from the participating partner and a e-ticket to our online bánh chưng making class on January 29 where we will teach you how to make bánh chưng.
The ticket page includes information about our partners and what treats they will offer. When you purchase a ticket, you will select the restaurant where you will pick up the kit.
Note kits will not be available for pick up until a few days before the class on January 29. The restaurant or bakery will reach out to you directly to coordinate pickup times and dates.
What is included in each kit?
Ingredients and supplies to make 4 bánh chưng and a signature Lunar New Year dish from the partner. Please refer to the ticket page for more details about each partner's signature dish.
Do you have any vegan options?
Ban Be in Brooklyn is offering a vegan bánh chưng kit. This means their kit will include all vegan ingredients to make banh chung. (Ban Be's signature dish — Sesame Cacao Kumquat Butter Cookies — is not vegan.)
All other bánh chưng kits from all other partners contain pork, but you can omit the pork to make the bánh chưng vegan. Each partner will add their own signature dish to their kits that may or may not be vegan. Please refer to the ticket page for descriptions of each dish to determine if it would be right for you.
I bought a restaurant kit. When can I pick it up?
You'll pick up the kits sometime during the week before the class. The restaurant or bakery that is assembling your kit will be in touch with the exact details. Please reach out directly to them with any pickup questions.
I ordered a kit … but from the wrong location! Can I switch my kit? And/or get a refund?
We are so sorry, but our very small team just doesn't have the capacity to coordinate switching kits. Please feel free to order another kit from another partner if available — but do note all sales are final and there are no refunds.
I ordered a kit but changed my mind. Can I get a refund?
No, sorry! All sales are final and we do not offer any refunds. Preparing and assembling the kits is a multi-day process that requires significant planning and preparation from partner restaurants. We believe it is important that our partners are compensated for their work.
ABOUT THE ZOOM CLASS
When is the class?
The class will be on Saturday, January 29 at 10 a.m. PST / 1 p.m. EST.
Where is the link to the class?
On the morning of class, Eventbrite will send you an email with instructions to log onto your Eventbrite account. From there, you'll be able to access the Zoom link and join the class.
I don't know how to use Zoom!
That's ok! For a primer, see here: https://support.zoom.us/hc/en-us/articles/201362193
When can I log in to class?
You will be able to log in as early as 1 hour before class begins. Please do so if you can! We are anticipating hundreds of attendees and checking everyone in will take a little bit of time. We would love to get everyone checked in as early as possible so class can start on time.
What will happen on class day?
Diep will start the class with a demo of the technique she uses to make bánh chưng. After, everyone will be divided into smaller breakout rooms. Each breakout room will be led by an experienced bánh chưng maker who will guide you as you make your very own bánh chưng!
What if I'm late or have to leave early?
No problem! Join us when you can, and leave when you need to. After class, we will send out a video tutorial, so you will have that to reference as well.
I can't attend the class :( Will it be recorded?
After class, we will send out a pre-recorded video tutorial that walks you through the bánh chưng making process. To protect everyone's privacy, a recording of the Zoom class itself will not be sent out.
Date and time
Location
Refund policy