Bangun Customer Experience Legit dengan Multiple Agent Whatsapp & Instagram
Bagaimana solusi media sosial WhatsApp API dan Instagram API mampu meningkatkan kepuasan pihak pelanggan?
About this event
Di era AI dan digitalisasi, bisnis harus mampu mengatasi bagaimana mereka dapat tetap bersaing di dunia yang bergerak cepat salah satunya untuk meningkatkan kepuasan dari pihak pelanggan. Sayangnya, masih banyak bisnis di Indonesia yang masih tradisional, sistem dan manajemen belum terotomatisasi.
Qontak by Mekari dan Soulfy bersama dengan Bisnishack menghadirkan sebuah kolaborasi webinar untuk mengenalkan Anda pentingnya digitalisasi bisnis dalam membangun Customer Experience, salah satunya melalui teknologi terbaru Instagram API dan WhatsApp Business API.
Pengalaman apa yang akan mereka bagikan dan bagaimana integrasi WhatsApp dan Instagram mengembangkan bisnis Anda?
Ikuti webinar eksklusif "Bangun Customer Experience (CX) Legit dengan Multiple Agent WhatsApp & Instagram" pada:
Hari/Tanggal : Kamis, 30 September 2021
Waktu : 02:00 PM (GMT + 7)
Platform : Zoom (Link akan disediakan)
Agenda :
Soulfy - Pentingnya Aktivasi Media Sosial untuk Customer Experience
Bisnishack - Pentingnya dan Keuntungan Membangun Customer Experience pada Suatu Bisnis
Qontak.com - Solusi Digital Omnichannel Chat Panel untuk Meningkatkan Customer Experience
Q&A dan Networking
Untuk pertanyaan lebih lanjut, hubungi tim kami Qontak via WhatsApp di 0878 8085 1085 (Lathifa) atau tim Soulfy di 0812 8434 5975 (Nisa)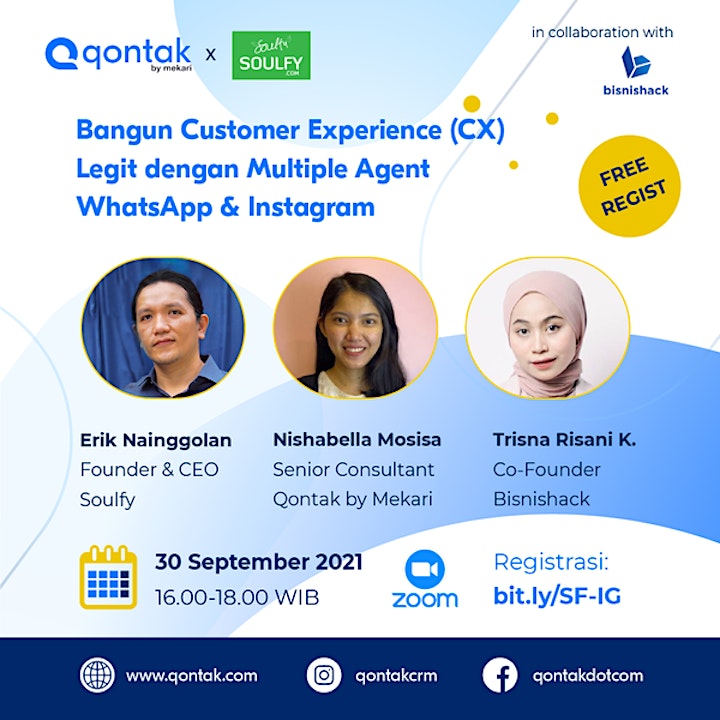 Organizer of Bangun Customer Experience Legit dengan Multiple Agent Whatsapp & Instagram
Qontak.com is Asia's leading integrated sales & marketing software system. The platform provides tailored CRM solutions along with verified direct business contact and company data for businesses & non-profit organisations to assist with sales, marketing and research.

Qontak is one of the largest verified database providers in Indonesia and has been featured on NET TV. Nominated by Rice Bowl ASEAN Awards 2016.