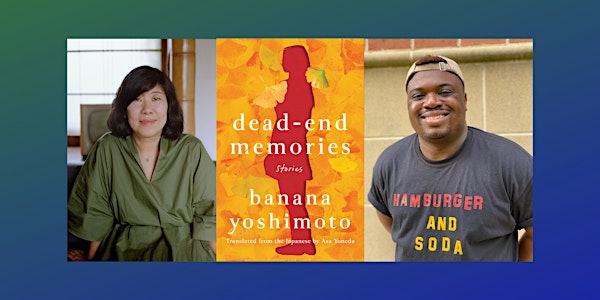 Banana Yoshimoto, "Dead-End Memories," with Bryan Washington VIRTUAL
Novelist Banana Yoshimoto, author of "Dead-End Memories: Stories," in conversation with Bryan Washington
About this event
Co-presented by Elliott Bay Book Company, Exile in Bookville (Chicago), and Green Apple Books (San Francisco).
This program will be virtually hosted by Green Apple Books.
Ever since the U.S. arrival of her translated novel, Kitchen, in 1993, we have wished/sought to have Banana Yoshimoto come our way from her Tokyo home to read and talk about her work. Nearly thirty years along, and with many more translated works of fiction along the way (out of the many more she has written), such a visit still has not happened. With Zoom, however, other things are possible, and so with allied independent bookstores here, we are delighted to help present this virtual program occasioned by publication of her newest U.S. publication: Dead-End Memories: Stories (translated by Asa Yoneda, Counterpoint).
"Bittersweet yet radiant, poignant yet promising, Yoshimoto once again showcases her dazzling appeal." —Booklist.
"Yoshimoto embellishes these gorgeously written gems with sensual descriptions of food and sex, and makes them memorable by showing how the women set themselves free from misfortune via friendship and resilience." —Publishers Weekly.
Banana Yoshimoto will appear in conversation with Bryan Washington. Bryan Washington is the author of Lot and Memorial, which was a finalist for National Book Critics Circle award. He is a columnist for the New York Times Magazine.