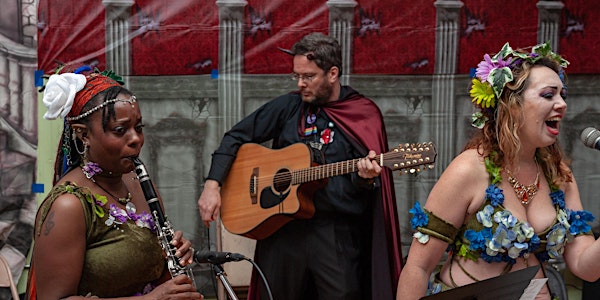 Baltimore's Spring Fairy Ball!
Dance the Night Away with the Faeries! And the Elves, Orcs, Goblins, and Ogres, of Course! Live Music! Faerie Court and Costume Parade!
By Baltimore Faerie Faire
Date and time
Saturday, April 22 · 6 - 11pm EDT
Location
2640 Space 2640 Saint Paul Street Baltimore, MD 21218
Refund Policy
Refunds up to 7 days before event
Eventbrite's fee is nonrefundable.
About this event
On April 22, Earth Day, from 6pm-11pm we will dance and dance! THREE live dance bands, 2 Fairy Courts, The Queene will give out prizes for her favorite fashions after the Fae Fashion Parade! There will be crafty vendors of handmade Wonders that please the fae folk....
Students, use Promo Code "student" to get 20% off, and be ready to present your student IDs at check in. Faeries like the acquisition of knowledge. Helping Professions- work in a school, hospital, etc. and need a price break to come frolic? Ask ninadances@gmail.com for your code. It's half off, and good til Feb 15.
Clipper City Combo is playing! This is the nine piece version, playing many of the same tunes as the Clipper City Crew Band we know and love. Yes, there will still be a limbo.
27th St. Klezmer Band will play! You may not have heard of this newer band, but your feet are going to move and your spirit will soar!
Pirates for Sail! It's a pirate band - there is a long tradition of faeries and pirates getting into mischeif together...
AND, opening up the evening, will be Maugorn the Stray, a one man band with more tunes than you can shake a stick at!
Brinjal is taking a break from being theband on stage, but many Brinjalistas will be there, and we might get a song out of some of them.
Ticket Level:
Fae Family is the level that will grant you entrance to a Magical event.
Fancy Fae gets you a Fancy present at the door
Patron of the Fae gets you the knowledge that you are helping put this on, the Fancy present, and your Name and Title will be announced upon Arrival by a Herald of the Faerie Court. If you don't yet have a title, please feel free to pick from one below or create your own:
King/Queene, Prince/Princess, Duke/Duchess, Marquess/Marchioness, Earl/Countess, Viscount/Viscountess, Baron/Baroness, Sultan/Sultana, Maharaja/Maharajni
...of the Wild Marshes, of Druid Hill, of Elvenia, of Dundalk, of the Northern Reaches, of Baltimore....
Feel free to add on other Honorifics, such as : Lover of Cats, Holder of Many Things, Conqueror of the Porcelain Throne, Secretholder for the Queene of Bath, Wanderer into Forbidden Places....
Vendors: Bidlack Photography, Fotos By Fudd, Illuminated Turtle, Timothy Lantz, HollowCrowCrafts, Airship Oddities, Fairy Wings and Other Fanciful Things, Cassandra the Fairy, Layer by Layer 3D Printing, LLC, IZZY MARIE Metal Designs, Inspired By Life, Blue Santa Cult, Firefly the Fairy Cat, Appalachian Gems, The Sapphire Sun, With Love Handmade Greeting Cards, Eli Art Sparkle, Crystal + Craft, Jessica Bidlack Photography, World Spirit Tarot and Fotos By Fudd!
The Seelie Court Enters, last November's Fairy Scary Ball
Below is some of the Clipper City Crew Band, a 24 piece band that has played for us at every ball! We are trying the 9 piece version for the first time in 2023!
Dancers above, Unseelie Court below