About this Event
Youth Town Halls (3 Dates, Times, & Locations)
BSPH Youth Advisory Board
Thursday, January 30, 2020, 5:30 pm to 8:00pm
Bloomberg School of Public Health, Sommer Hall: 615 N. Wolfe Street, Baltimore, MD 21205
Focus: Violence, Food Insecurity, Education,
Economic Opportunities for youth
Community Law in Action (CLIA)
Thursday, February 13, 2020, 6:30pm - 9:00pm
Green Street Academy: 125 N Hilton St, Baltimore, MD 21229
Focus: Impact of laws on youth and Civic Engagement
Farajii Muhammad, For The Culture on WEAA
Tuesday, March 10, 2020, 6:00pm to 8:30pm
Friends School of Baltimore: 5114 N Charles St, Baltimore, MD 21210
Focus: Education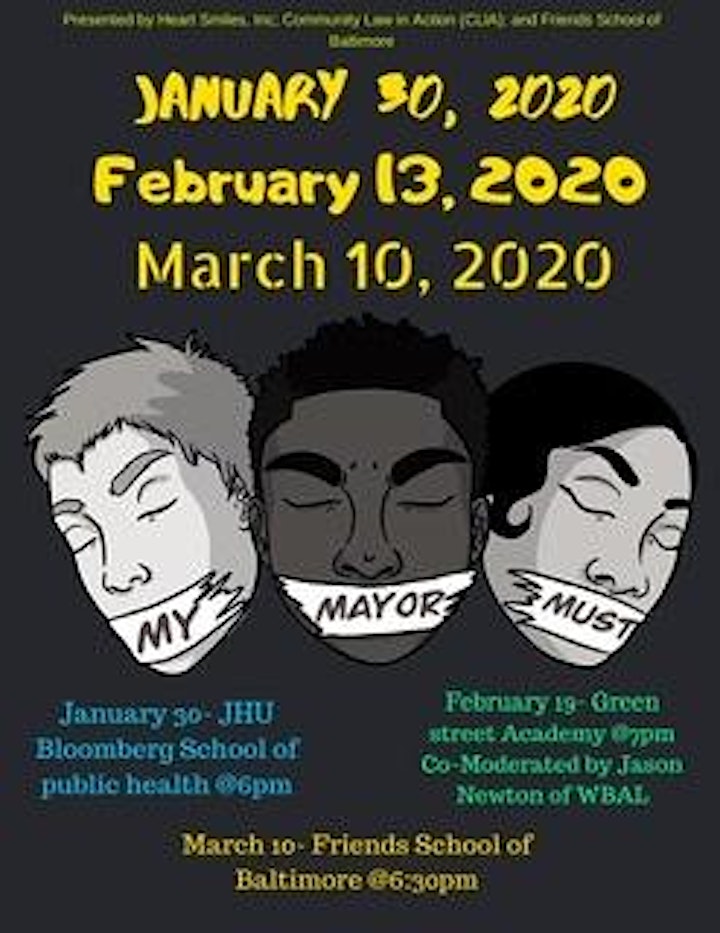 As youth, we were let down not only by people in office in Baltimore City but also by the news media who were covering topics about youth. As youth each day, we get up and try again with all the odds against us, to strive for greatness when everything around us is crumbling. We are continually being let down by those who say they support us.
Out of our frustration and disappointment, we came up with an idea of hosting ouw own Youth Town Hall (led, created, and organized by the members of the YAB) to allow youth to interview all of Baltimore City's Mayoral Candidates for the 2020 election.
The purpose of the Youth Town Hall meeting is to provide a space for Baltimore City Mayoral Candidates to be engaged in conversation with some of Baltimore's youth about the city's most pressing issues. The topics of this Youth Town Hall will include Gun Violence in Baltimore City, Food Insecurity, Education and Career/Economic Opportunities for youth in Baltimore city.
Most of the decisions made in Baltimore City about youth are decided without youth voice. Since most people do not want to give us a seat, we made our own table.