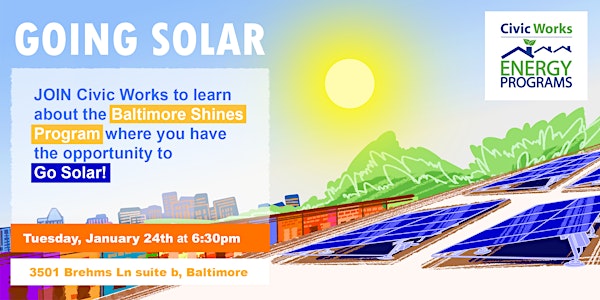 Baltimore Shines Solar Info Session (In Person) - 1/24/23
Interested in going solar, and want to learn more about Baltimore Shines? Join us for the Baltimore Shines Solar Info Session - In person!
When and where
Location
Civic Works' Brehms Office 3501 Brehms Lane Suite B Baltimore, MD 21213
About this event
What is Baltimore Shines?
Baltimore Shines is a collaborative program between Baltimore City Department of Housing and Community Development and Civic Works. Baltimore Shines' goals are to:
Provide access to rooftop solar PV installations for low- and moderate-income Baltimore City residents
Create family-sustaining careers through solar job training and job placement opportunities.
What are the benefits for you?
Lower your Utility Bill: Save up to 25% or more on your monthly electric bill
Increase Home Value: Homes with solar increase their home value by 2%.
Fight Climate Change: Reduce your carbon footprint to fight climate change.
Baltimore Shines Pilot Project
We have launched a pilot project where up to 20 homes in Baltimore City will receive free rooftop solar for their homes this year.
Baltimore Shines is accepting applications today. All applications will automatically be reviewed for eligibility for the limited Pilot Project (launching in 2022) and for the permanent Baltimore Shines Program (launching in 2023). Complete your application today to be added to the top of the waitlist.
This session will fill-up quickly, so be sure to RSVP Today!
If you can't join us for this info session, but are interested in learning about the Baltimore Shines program, please contact us at: (410) 929-6139 or energyprograms@civicworks.com
We look forward to seeing you on January 24, 2023 (Tuesday).