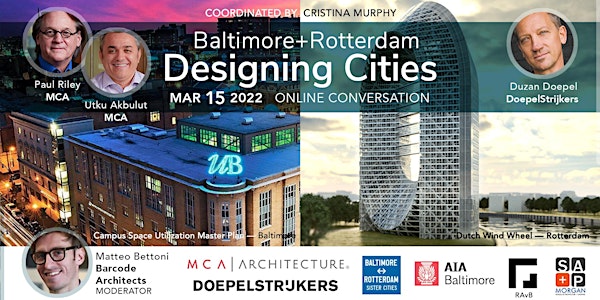 Baltimore + Rotterdam | MCA + DoepelStrijkers
Online conversation about designing (in) cities, with Riley & Akbulut + Duzan Doepel on March 15 at 12pm EDT (US), 5pm CET (Netherlands).
About this event
Baltimore+Rotterdam: Designing Cities
Each week this spring, two design groups, one from Baltimore (Maryland, USA) and one from Rotterdam (the Netherlands), pair up to discuss architecture, urban design, and how design and policy can improve the built environment for all residents. (More information about this conversation series)
The March 15, 2022 edition features:
Paul Riley & Utku Akbulut Marshall Craft Associates (MCA) (Baltimore)
Duzan Doepel DoepelStrijkers (Rotterdam)
Moderator: Matteo Bettoni Barcode Architects
Host: Cristina Murphy Assistant Professor at Morgan State University School of Architecture + Planning (MSU SA+P) and Adjunct Professor at Virginia Tech School of Architecture + Design's Washington-Alexandria Architecture Center
TIME & REGISTRATION
12:00pm EDT Maryland time, which is 17.00 CET Netherlands time. Each speaker talks about their work, followed by panel discussion and Q&A.
Open to the public. Advance registration required.
The webinar will be conducted in English language.
AUDIENCE
The lecture is geared towards architects, developers, community organizers, social enterprises, city planners, policymakers, and professors and students of architecture and urban design.
AIA Continuing Education Credits: 1 LU
About the speakers
Paul Riley Marshall Craft Associates (MCA)
Paul Riley is an Architect with more than 35 years of experience practicing Architecture from Florida to Aspen, Colorado to D.C. and has spent much of his career in Baltimore, Maryland. He has worked on a wide range of project types including commercial, institutional, cultural, and residential. Paul has developed a design reputation for keeping things simple and logical while creating unique projects that express his client's goals and aspirations while embracing the community. He believes that every project is an opportunity to express the client's unique identity by distilling the client's objectives and program to develop a clear concept to tell the clients' story. His design philosophy is rooted in developing a sense of place by taking advantage of each community's unique and often hidden or ignored attributes by finding beauty where one might least expect it. Through the use of a synthesized palate of tactile materials and found objects, he strives to achieve a project that enhances the user's sensory experience while being sustainably responsible. Several of his projects have received design awards from the Maryland AIA, Baltimore AIA, Colorado AIA, Baltimore Heritage, Aspen Historic Preservation Commission, IIDA, NCPC, Maryland ASID, and the PCBC.
Utku Akbulut Marshall Craft Associates (MCA)
Growing up in Istanbul, Turkey, Utku's fascination with architecture dates backs to his childhood years watching in awe as his contractor father turned blueprints into buildings. Starting his architectural career as a draftperson, Utku worked on large scale residential projects in various capacities before moving to United States. Over the last 17 years, Utku has channeled his efforts primarily into academic and healthcare projects where his responsibilities range from master planning to the design, construction documents, and construction administration of buildings.
Utku is a leader in computer-aided design and digital graphics imaging committed to finding ways to engage clients more fully in the design process. Utku embraces the notion that close collaboration and good communication between the architect and client leads to innovative design solutions. A talented designer with over 30 years of experience, Utku maintains the belief that a successful design relies not only on a strong understanding and response to the client's needs, but also a delivery of spaces that exceed expectations and create environments where humans can thrive.
Duzan Doepel DoepelStrijkers
Duzan Doepel was born and raised in Johannesburg, South Africa. An extreme climate, resource and water scarcity, and poverty make a circular and inclusive design approach in this context a necessity. It was during his student years that he developed a fascination for climate and resource efficient design.
He brought this circular and inclusive design approach with him to the Netherlands when he emigrated in 1996 to work for MVRDV architects in Rotterdam. It was here that he worked with interior architect Eline Strijkers through the late 90's, not knowing that they would start an office together in 2007.
Doepel Strijkers is an interdisciplinary design studio focusing on interior, architecture and strategic urban interventions. Their radically local design approach leads to tailor-made solutions on different scales in which their circular and inclusive design agenda is explored.
Matteo Bettoni Barcode Architects
Matteo Bettoni is an Italian architect with eighteen years of experience, built by working for internationally renowned firms in Milan, Rotterdam and Shanghai. Licensed Architect since 2006, he supports his creative attitude with a technical background and advanced software skills (#BIM #Revit #Grasshopper #3DS). With a history of successful experiences across nationalities and cultures, his projects received awards and recognition, including two "Europan" and "Under 40 Architects". He is a Senior Architect at Barcode Architects, an international office for architecture, urbanism, and contemporary design.
About this webinar series
This webinar is one of a series of design conversations with Baltimore + Rotterdam architects and urban designers.
See other webinars in this series
Series is coordinated by Cristina Murphy, Assistant Professor at Morgan State University School of Architecture + Planning (MSU SA+P) and Adjunct Professor at Virginia Tech School of Architecture + Design's Washington-Alexandria Architecture Center, with assistance from Baltimore-Rotterdam Sister City Committee (BRSCC).
Event Partners: AIA Baltimore ; Rotterdamse Academie van Bouwkunst (RAvB)