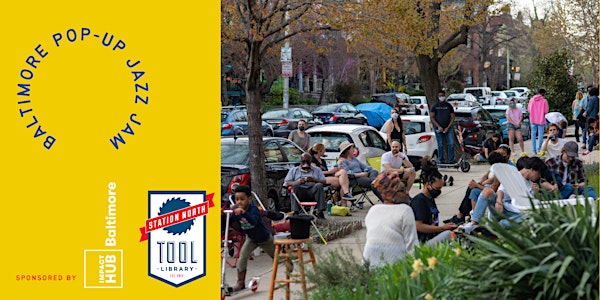 Baltimore Pop-up Jazz Jam spons. by Impact Hub Baltimore + SN Tool Library
Impact Hub Baltimore & Station North Tool Library join forces to support Ed Hrybyk's Baltimore Pop-Up Jazz Jam, Join us for a night of fun!
When and where
Location
Wonderground Park 409 East Lanvale Street Baltimore, MD 21202
About this event
See you at Wonderground Park! 409 East Lanvale Street - Baltimore, MD 21202
Impact Hub Baltimore and Station North Tool Library come together for a night of live music, good folks, and laughter. Bring your mask and unwind whether it's been a while or we saw you at the last jazz session we sponsored! Tell your friends.
The location will be revealed in an e-mail to attendees on Monday, May 17th 2021. It will also be posted on Instagram prior to the concert. We are also happy to share the location of the jam via DM, email or carrier pigeon. It's going to be fun, don't you love a good mystery?
E-mail Alanah@baltimore.impacthub.net if you have questions
About The Baltimore Pop-Up Jazz Jam
The Baltimore Pop-Up Jazz Jam started in September 2020 in response to Covid-19 restrictions. The closing of bars and venues left a massive gap for the music community, especially students.
Occurring at a different location each week, the jam provides a safe opportunity for musicians of all levels to play together for a socially-distant audience. The jam continues in 2021 with the help of local sponsors, like us!
If you are interested in sponsoring a pop-up jam, please email edhrybyk@gmail.com
About Impact Hub Baltimore
Impact Hub Baltimore is a Co-working space nestled in the heart of Central Baltimore. We are committed to connecting a thriving ecosystem of thinkers, doers, and dreamers here in our beloved city and beyond. We break down barriers, build social capital, and advance transformative ideas by disrupting icky mindsets, gathering resources, and sharing expertise to create a better future for us all. This year has been to say the least, but you don't have to do it alone, we have space for you.
Whether you need a randomized desk or an office space of your own, our team is here for you, YOU Belong Here. Email Alanah, Q, Eric, Irene or Michelle...any of us really, we are all doing the work and would love to chat more with you about it.
Use hello@baltimore.impacthub.net to give us a shout, talk soon!
About Station North Tool Library
The Station North Tool Library is a nonprofit tool-lending library and community hub in the heart of Baltimore City. We offer over 3,000 tools, 30 classes, a public woodworking shop, a dedicated DIY workspace, and a home repair classroom.
Our space is a welcoming environment where people can be creative, foster a do-it-yourself attitude, and learn to work with their hands. We share what we know and learn from each other!
If you are interested in learning more about SNTL email jessa@toollibrary.org