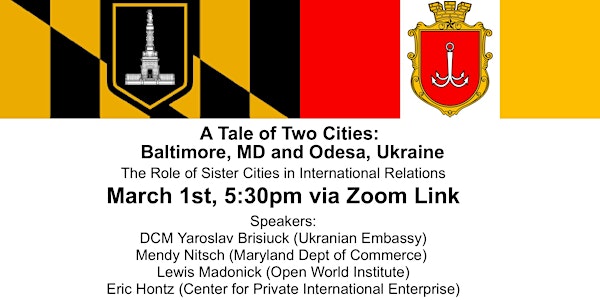 Baltimore, MD and Odesa, Ukraine: Sister Cities in International Diplomacy
Sales Have Ended
Registrations are closed
Sales have ended for this event but please join our volunteer organization for future events and efforts to have the Mayor of Odesa visit Baltimore. Thank you!
A Tale of Two Cities, Baltimore MD and Odesa, Ukraine: The Role of Sister Cities in International Relations
About this event
Our esteemed panelists will discuss the connection between Baltimore and Odesa in light of current events at the intersection of public, private and governemnt partnerships across the world which help promote international diplomacy:
Speakers:
DCM - Director Chief of Mission Yaroslav Brisiuck of the Ukranian Embassy
Mary E. ('Mendy') Nitsch - Director, International Programs at the Maryland Department of Commerce and s State of Maryland's Sister State program.
Lewis Madanick - Program Manager for Open World Institute
Eric Hontz - Deputy Regional Director - Europe and Eurasia at Center for International Private Enterprise
- - - - - - - - - - - - - - - - - - - - - - - - - - - - - -
The Sister Cities International program was established by President Dwight D. Eisenhower in 1956 to create a force for international cooperation and understanding through community involvement by promoting peace through people-to-people relationships. The Baltimore Sister Cities (BSC) Program was established in the early 1970's by then Mayor William Donald Schaefer. The Baltimore-Odesa Sister City Committee (BOSCC) was established in 1974 and is the second oldest relationship managed by Baltimore Sister Cities, Inc, a non-profit 501c3 corporation.
Visit www.baltimoreodesa.org to become a member!
- - - - - - - - - - - - - - - - - - - - - - - - - - - - - - -