Description
About the Workshop
An interactive design workshop that matches professionals into three small teams. Those teams then develop a concept for an urban or vertical farm for a pre-selected site in Baltimore. Participants will benefit from a crash course in hydroponics, aquaponics, permaculture, vertical farming, the economics of urban agriculture, and mentorship throughout the workshop. Click here for a short video summarizing Agritecture Workshops.
Presentation, Keynote, Networking, & Community Feedback Session
At the conclusion of the workshop, an audience will gather on June 24th at 4:00pm at Open Works for the presentation and networking session. A keynote will be delivered by Baltimore City Councilman Leon Pinkett, then the workshop teams will present their concept farms to the audience and to a panel of judges, who will select the winning team. A networking session will follow to conclude the event.
Schedule for Presentation, Keynote, Networking, & Community Feedback Session:

Schedule for Workshop Session: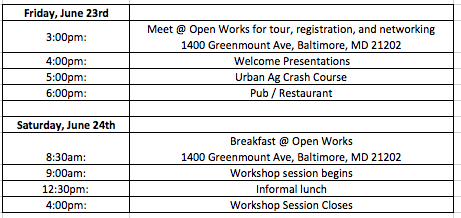 Team Composition
We will collect applications of potential workshop participants, and then do our best to balance the teams to include at least one of the following professionals:
-Architect
-Grower
-Entrepreneur
-Engineer
-Financial Professional
-Marketing Professional
-Sustainability Manager
-Government Employee
-Community Participant (free)
-Academic Professional
-Student
Workshop Ticket Pricing
$35 + Eventbrite fees before May 23
$60 + Eventbrite fees after May 23
Student tickets are free. Email Andrew(at)agritecture.com from your student email address to request a free student ticket.

Discount or free tickets can also be made available to appropriate applicants. Submit your information here and email Andrew(at)agritecture.com to apply for a discounted or free ticket.
Attending the presentation session is free.
Refund Policy
Full refund available before May 23
After May 23, no refunds
Presentation Only Session

If you choose to attend the free presentation only session, please be invited to join us beginning at 4:00pm on Saturday, June 24th at Open Works. There will be networking available leading up to the keynote speaker (Baltimore City Councilman Leon Pinkett), team presentations, and the networking session to follow.
You MUST Submit Your Information to Participate in the Workshop
This workshop will sell out as it is strictly limited to 30 participants, whom will be divided into three teams of 10. In addition to purchasing your ticket here on Eventbrite, workshop participants will need to submit their information here in order to be eligible to participate. Presentation only tickets, however, are free and available to all.
After the workshop participation tickets sell out, please still feel welcome to submit your information here to place your name on the event's waitlist.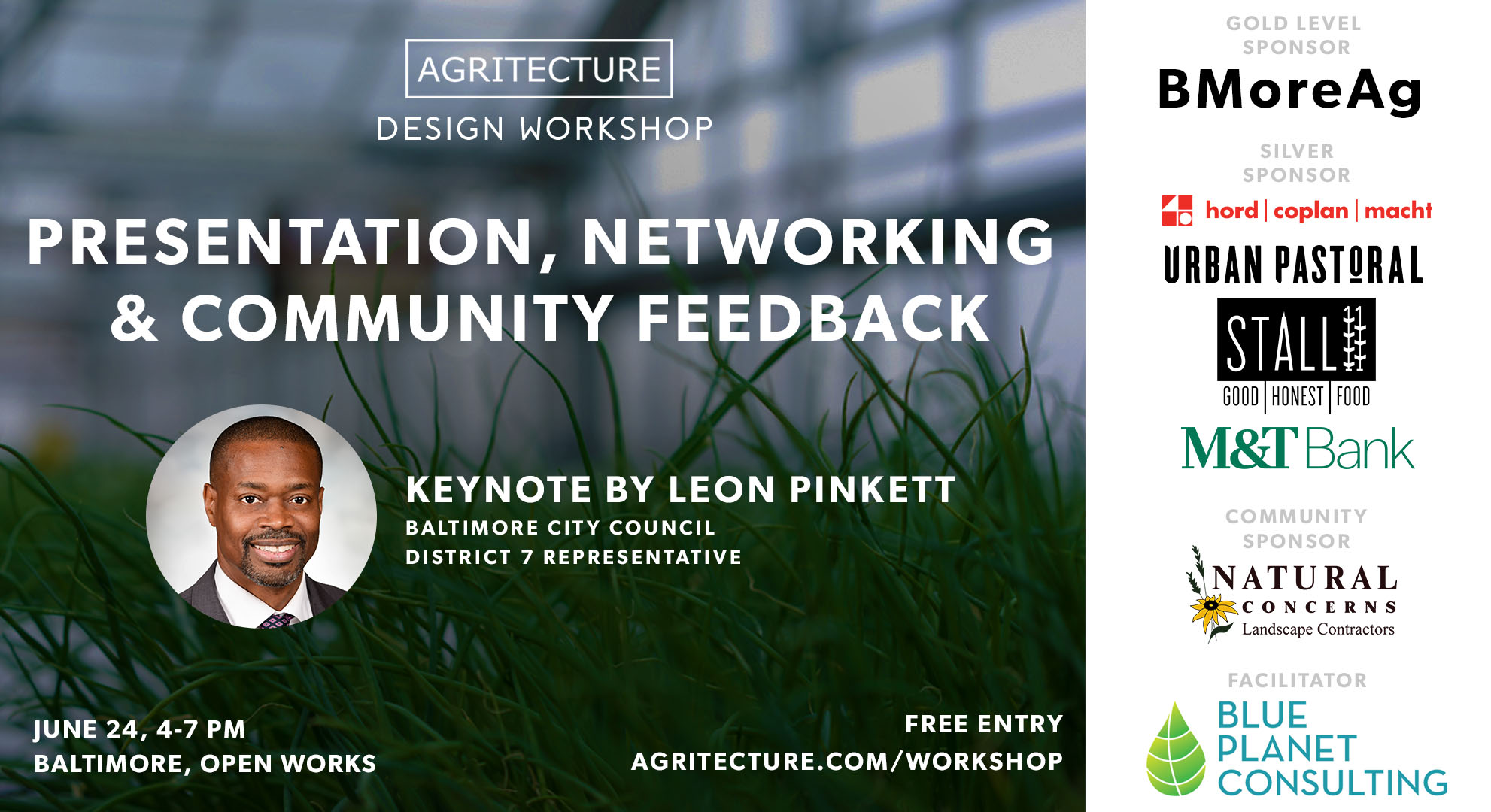 Judges:

Erik Booker, Assistant Commissioner of Code Enforcement Inspections, Department of Housing + President of Broadway East Community Association


Jerrel Duffy Jr, Associate Commercial Real Estate Relationship Manager, M&T Bank


Nieth Little, Extension Educator for Urban Agriculture, University of Maryland
The Venue:
This event will be hosted at Open Works. Open Works is a Makers' Space with equipment with extensive capabilities including:
- 3d printing
- Digital Fabrication
- Metal Working
- Wood Working
- Computer Lab
- Textiles
- Electronics
- Digital Media
All of the above tools will be at the disposal of our workshop participants. Visit Open Works website for more information.
Gold Level Sponsor: BMoreAg LLC
About BMoreAg: BMoreAg is a Benefit LLC whose primary objective is to serve the community through revitalization, availability of healthy foods, employment at a living minimum wage, career opportunity, education/training and community pride. We are eager to employ as many as possible from within the community, hoping to benefit residents first.
Event Planning & Coordination Sponsors: Blue Planet Consulting
Silver Sponsors: Hord Coplan Macht, M&T Bank, Urban Pastoral
Community Sponsor: Natural Concerns
Seed Sponsor: The Habor Bank of Maryland
If you're interested in sponsoring, please contact andrew(at)agritecture.com for details.
Past Workshops:
Check out past workshops held in New York, Las Vegas, Atlanta, Minneapolis, Fresno, London, and Boston.
Website & Social Media:
Visit @Agritecture or http://agritecture.com/workshop for more info.

Location:
Open Works in Baltimore Maryland
1400 Greenmount Ave, Baltimore, MD 21202
Reminder: Submit your information here in order to finalize your ticket.