Ballroom Sampler

Weekly Event - Every Tuesday: 6:30 PM to 7:30 PM (PST)
Event Details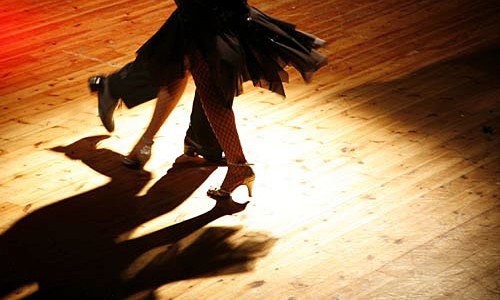 Ballroom Sampler 
Tuesdays @ 6:30pm
Drop-in for only $20 a person and $40 per couple.
Been thinking about learning some Ballroom? If you can't make it to our Tuesday 6:30pm Ballroom Sampler, we offer private lessons and packages for fun or for upcoming weddings and date nights.
Group Classes are both an introduction to the experience of dancing with different partners and an opportunity for students to become familiar with a variety of step patterns. Partner rotation during the classes allows dancers to practice steps with a variety of partners. Group Classes promote comfort in dancing, learning lead and follow techniques, and the camaraderie of a new experience. 
Private Lessons offer students the best value for their investment. With Private Lessons, the student works one-on-one with the instructor, receiving personalized instruction and immediate correction and encouragement. Through experiencing the physical awareness of connected movement, memory muscles will take the student to the next level of confidence with themselves and with other partners. In learning through the one-on-one method, both beginning and advanced students will find they progress faster and easier, as they enjoy the connection of partner ballroom dancing.

Wedding Programs

Your first dance as Husband and Wife – A Special Gift and an Everlasting Memory!

Your wedding day is important, and I want to help you make your first dance an everlasting expression of love and commitment and a memory you will cherish forever. I can help you plan a wedding dance program that will be an expression of elegance, style and grace. My assistance can include helping you to select your dance and music, as well as choreographing a complete routine for your dance. Additionally, I can help with Father and Daughter, Mother and Son, and Wedding Group dances.
Ballroom private lessons are billed at $50 per hour for a single dancer or couple, and each additional couple adds $10 per hour. We also offer on location lessons and demonstrations. Email Karissa Kracht or Leah Boresow or call 770-645-0110 for details about what dance is right for you! We offer Waltz, Quick Step, Foxtrot, Rumba, East or West Coast Swing, Lindy Hop, Salsa, Cha Cha, Bachata, and American Tango.
Where

Dancefx Atlanta
8465 Holcomb Bridge Road
Alpharetta, GA 30022


Weekly Event - Every Tuesday: 6:30 PM to 7:30 PM (PST)
Add to my calendar
Organizer
Karissa
Register today ! Call 770-645-0110
Email karissa@dancefx.org for more info.