Sales Have Ended
Ticket sales have ended
Thank you for supporting the Fine Arts at the Kroc Center!
Sales Have Ended
Ticket sales have ended
Thank you for supporting the Fine Arts at the Kroc Center!
Description
International Christian Ballet Troupe: Ballet Magnificat! is coming to Omaha!
Not familiar with Ballet Magnificat!?
Ballet Magnificat is headquartered in Jackson MS with troupes Alpha and Omega touring the world: from Europe to Brasil. What makes this professional group unique is their love of God and dedication to not only connect with audiences but support fledgling dancers. For the Troupe, Psalm 149:3, "praise his name in the dance..." is the inspiration for the basis of professional dance as a form of Worship unto the Creator.
See a video on Ballet Magnificat! HERE
The Ballet troupe's Performance "The Prodigal's Journey" will be performed center stage in the spacious and intimate Omaha Kroc Center's Assembly Hall.
Local Ballet Academy: Adair Dance will open for Ballet Magnificat!
This is a family friendly venue. There will be a place for your coats. Refreshments and snacks may be purchased through our vending nook machines.
---
Watch Prodigal's Journey Promotional Video HERE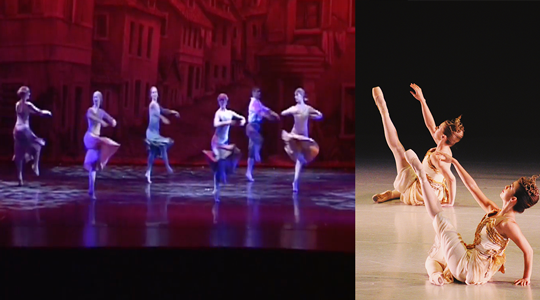 Prodigal's Journey: Life in a small town is shaken up when a husband suddenly forsakes his loving wife and daughter and leaves with the desire to be free and find enjoyment and fulfillment in life. Heartbroken, the wife and daughter struggle to forgive him and eagerly await his return. The journey that the husband thought would bring pleasure ends up producing only sorrow and regret. After reaching the "dead-end" of a lifetime, the husband returns home to ask forgiveness from his family- and he is received with open arms. A touching tale of forgiveness and restoration set to a mélange of classical ballet, jazz, modern and even some swing dance! Experience the power of restoration as the Prodigal journeys home. --A ballet by Jiri Sebastian Voborsky
The Omaha Kroc Center is dedicated to bringing quality art programs to our community. As a member and class attendee, personal educational opportunities with groups like Ballet Magnificat! are part of what our students experience and learn from. To learn more about our arts program contact our Fine Arts Manager at 402.905.3523.