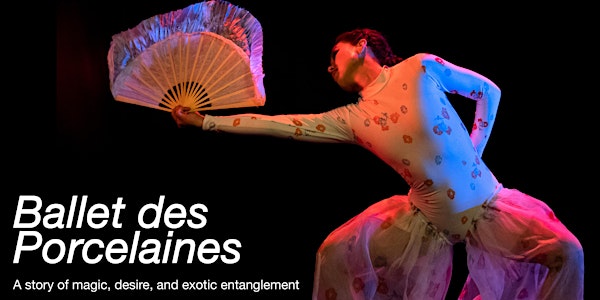 Ballet des Porcelaines at MIT
A story of magic, desire, and exotic entanglement
When and where
Location
Theater Arts at MIT - W97 345 Vassar Street Cambridge, MA 02139 United States
About this event
The Ballet des Porcelaines was presented in 1739 by a group of French aristocrats at a château outside of Paris. The historical context of its production—an exclusive performance for the elite supported by the labor of less privileged classes—reflects the era's social inequalities. The plot is equally revealing: A prince searches for his lover on a faraway island ruled by a magician who has transformed the inhabitants into porcelain. The prince and princess must shatter the spell to bring the frozen dancers back to life. The story is an allegory for the French fascination with Chinese porcelain, sometimes referred to as "white gold," and foreshadows the destructive European imperialism of the 19th century in the Qing Empire.
Nothing survives of the original ballet's set design, costumes, or choreography; this lost work of baroque chinoiserie is as much a historical artifact as the porcelain objects that inspired it. Choreographer and activist Phil Chan and art historian Meredith Martin have worked with an Asian American creative team to reimagine the ballet, aiming to make it meaningful and relevant for a multiracial and contemporary audience, while probing the mystery, exoticism, and complex cultural work behind the making of porcelain. First premiered at the Metropolitan Museum of Art in December 2021, the production casts Asian American dancers in the primary roles, and foregrounds the misunderstandings of China and Asia that continue to exist in the performing arts today.
MIT faculty Jeffrey S. Ravel (History) and Kristel Smentek (Architecture) bring the production to MIT to encourage discussion about the historical origins of inequality and how such inequities may be remedied today—complementing MIT's ongoing diversity, equity, and inclusion work. Ravel and Smentek are specialists in the history and culture of 18th-century France, including expertise, respectively, in the politics of French theater and the European encounter with Asian art. Along with Chan and Martin, they will participate in Q&A sessions and audience discussions following the performances at MIT.
Tuesday, 9/27, at 5pm is sold out. We hope that you can join us for one of the noon performances.