Description
Columbus Underground invites you to ring in the New Year at Balboa and The Grandview Cafe!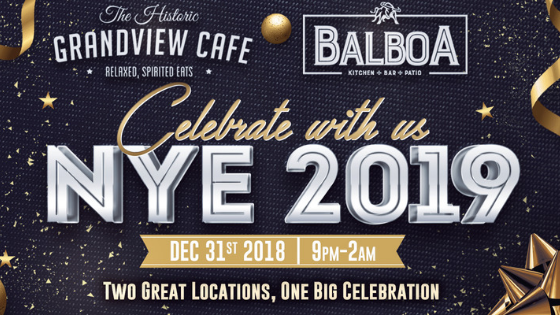 Guests will be treated to beer, wine, and top-shelf drinks plus featured appetizers from the Balboa menu and a DJ to keep the party moving all night. Each guest will be invited to welcome in 2019 with a champagne toast at midnight and the party won't stop until 2am.
Special all inclusive tickets for the first 50 guest at $75 with tickets increasing to $95. Don't miss out!
The open bar will be available from 9:30pm-12:30pm and passed hors d'oeuvres will be available until 11:30pm.
Balboa brings Mexican flavor to Columbus, no matter what the weather outside. Their food and drink menus are inspired by the fresh flavors and Spanish influences of Southern California. Balboa gives each guest the total experience with their cantina style atmosphere and vibrant decor. Grandview Cafe is the heart and soul of the Grandview area. Get immersed into both venues with your all-inclusive New Years Event Tickets!
Must be 21 years and over to attend.
If you are looking to kick off the evening with a stand out meal, Balboa will also be taking reservations until 8pm. For more information, or to make reservations visit www.BalboaGrandview.com.
To find out more about Grandview Cafe, visit www.grandviewcafe.com.

operated in compliance with OAC 4301:1-1-58, and ORC 4301.21. Package begins at 9:30pm ETD. Management and Agents will be on hand to monitor intoxication of patrons as necessary. Consumption will be monitored by tickets distributed upon entrance. Shots, "on the rocks" and "neat" pours are excluded.
Balboa reserves the right to refuse service. All tickets are nonrefundable. Please drink responsibly.
By purchasing a ticket to the event, you agree to be contacted by the Event host via e-mail about information regarding this event and future events. Your e-mail address will not be shared with any other entity.