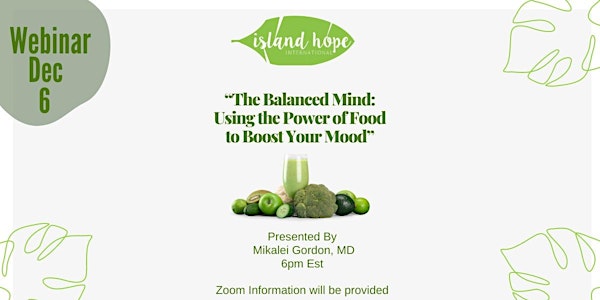 Balancing Your Mind Using Food
Learn how to boost your mood and overall mental & physical health without using medications but with your favorite foods.
About this event
"The Balanced Mind: Using the Power of Food to Boost Your Mood" will be presented by Mikalei Gordon, MD
This workshop is a part of our I'm Every Woman Health Expo's Webinar Series. Everyone is welcomed to attend.
Join us as we empower women to take control of their health and improve their life during our I'm Every Woman Health Expo Webinar series. Our hope is that you will leave invigorated and empowered to share the information you have learned with your friends, family, and community as well as have transparent conversations with your loved ones and health care providers. Men are encouraged to attend.
Our second annual I'm Every Woman Health Expo will be formatted as a series of in-person and virtual events. The theme for this year's expo is Empowered to Empower. On January 29, we will have our health fair at Brian Piccolo Park. There will be workshops, vendors, food trucks, and giveaways. All are welcomed to attend. More info to come. Follow us on Eventbrite and social media as well as sign up for our newsletter on our website so you will always be first to be updated with what's going on with Island Hope International and the events of our I'm Every Woman Health Expo & Webinar Series.
Upcoming Events:
Workshop: December 6, 2022:
The Balanced Mind: Using the Power of Food to Boost Your Mood - 6pm Eastern/ 5pm Central
January 29th, 2023: Health Fair @ 11am
Webinar February & March TBA
April: TBA
Follow us on social media @islandhopeintl
Visit us on the web @ islandhope.org
Interested in being a vendor or sponsor? Email us at expo@islandhope.org