Description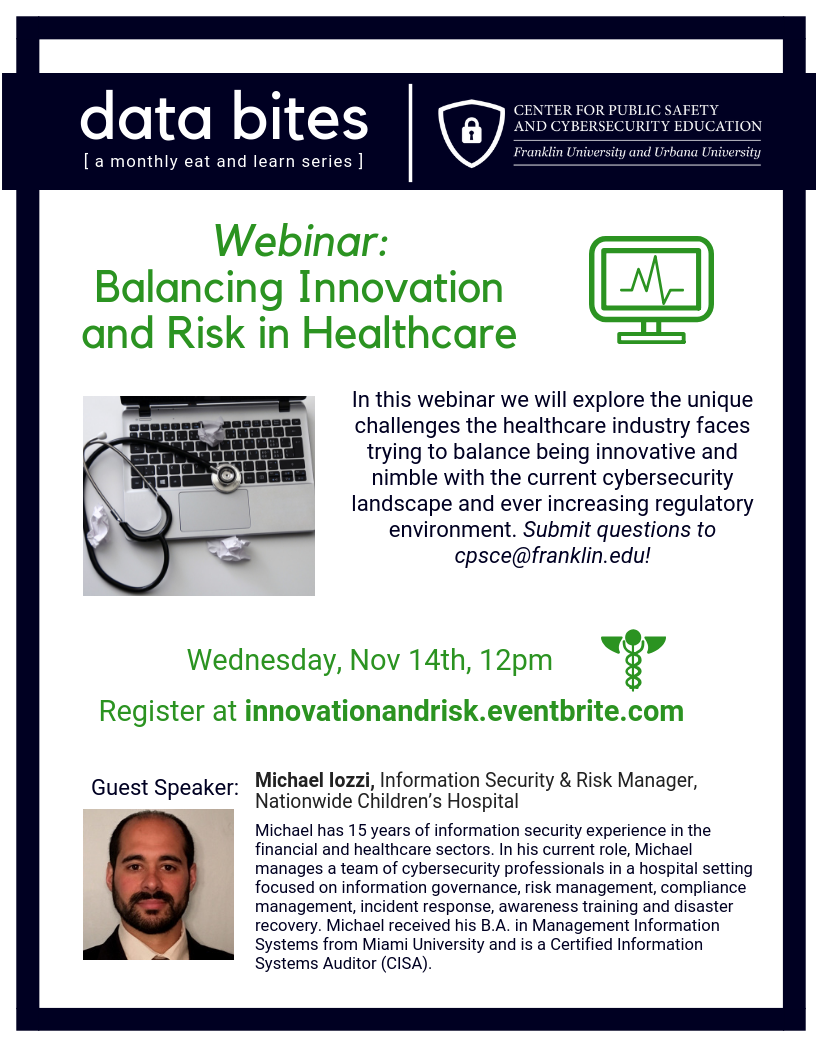 Register now for webinar link!
Topic: Balancing Innovation and Risk in Healthcare
During this discussion, we will explore the unique challenges the healthcare industry faces trying to balance being innovative and nimble with the current cybersecurity landscape and ever increasing regulatory environment.
Speaker: Michael Iozzi, Information Security & Risk Manager, Nationwide Children's Hospital
Michael Iozzi manages the Information Security & Risk Department at Nationwide Children's Hospital in Columbus, Ohio. He has 15 years of information security experience including 6 years dedicated to the healthcare industry. In his current role, Michael manages a team of cybersecurity professionals focused on information governance, risk management, compliance management, incident response, awareness training and disaster recovery. Previous experience at a Big 4 accounting firm included IT consulting and audit as a Certified Information Systems Auditor (CISA). Michael received his B.A. in Management Information Systems from the Farmer School of Business at Miami University.
Submit Questions to the speaker ahead of time by emailing cpsce@franklin.edu.
About the Host:
The Center for Public Safety and Cybersecurity Education (CPSCE) unites doctorially qualified faculty, relevant in-field expertise, and leading edge curriculum and course development abilities to provide education, training and awareness programs in public safety and cybersecurity education.
Check out our website at www.franklin.edu/cpsce or follow us on Facebook (@FranklinCyberandSafety) for future events!