Description
Balaboosta Hosts its 6th Annual Passover Seder Dinner
On Tuesday, April 11th with Chef Einat Admony!

This special evening will include a five course dinner, wine from Israeli Wine Direct, live music, a prize for the lucky afikoman finder, and dessert by Nicholas Morgenstern of Morgenstern's Ice Cream.
A favorite event of Einat's, Seder dinner is an annual tradition at Balaboosta and this year is sure to be just as exciting as years past, in which Balaboosta has collaborated with the talents of Anita Lo, David Tanis, Fany Gerson, Ilan Hall and more!
There will only be one seating at 6:30pm. All seating arrangements will be family style. Large parties can be accommodated (based on ticket availability). Pricing is set at $150 per adult and $100 per child (under 11 years of age) and includes food, wine, tax, and gratuity.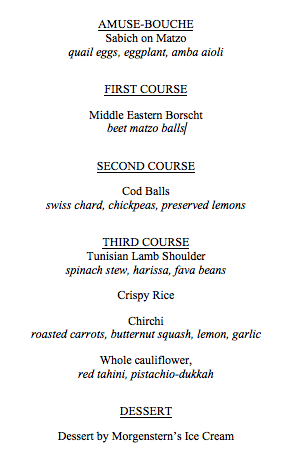 ABOUT NICHOLAS MORGENSTERN
Nicholas Morgenstern was born and raised in San Francisco. Torn between culinary arts and auto mechanics, he opted for the California Culinary Academy after high school, where he studied pastry arts.
After spending 2 years working under Michael Mina at Aqua restaurant, he moved to New York City. For the past nine years, Morgenstern has worked as a pastry chef in some of this country's most prestigious kitchens. He has spent time in the kitchen of Daniel Boulud's New York Time's 4 star rated Restaurant Daniel. Morgenstern's most recent work was as the Pastry Chef under Paul Liebrandt at Gilt and before that, at Gramercy Tavern - where he developed an unparalleled reputation as a master of his craft. After spending time behind the scenes in some of the finest restaurants around, Morgenstern began looking to broaden his culinary reach.
In July 2008, Morgenstern opened The General Greene, a full-service restaurant located in Brooklyn's Ft. Greene. There, he brought the experience gained from working in well-heeled kitchens, as well as a genuine love of working with the best ingredients, to a casual neighborhood eatery. In 2008 The General Greene was awarded 4 stars in New York Magazine, and continues to enjoy critical and local praise. In the Spring of 2009 Morgenstern opened The Greene Ice Cream company, serving house churned ice cream from custom made ice cream carts in Brooklyn.
In 2010 Morgenstern opened Goat Town in Manhattan's East Village, a neighborhood restaurant serving brunch and dinner. Serving seasonal American fare focusing on simple quality, the restaurant gained a reputation for being a neighborhood favorite.
In 2013 Morgenstern opened El Rey Coffee Bar and Luncheonette, a café in Manhattan's Lower East Side. Serving Coffee, Espresso and Lunch, this spot is already a neighborhood favorite being awarded 1 star by Pete Wells of The New York Times.
Spring of 2014 Morgenstern to opened his first ice cream parlor, Morgenstern's Finest Ice Cream at 2 Rivington st.
In the fall of 2014 Morgenstern closed Goat Town and turned it into GG's a neighborhood pizza joint with a cult following of New York Pizza lovers.