Multiple Dates
Baking School: Chocolate Breads with Goodnow Farms | Deluxe Class
Description

Baking School: Chocolate Breads with Goodnow Farms | Deluxe Class
Presented by The Trustees
Level up your dessert skills and learn the art of baking with decadent, premium quality chocolate from Goodnow Farms! In this lively, hands-on cooking class, Chef Cleo will teach you the essential science and techniques to creating gourmet baked goods using Goodnow Farms deluxe chocolate. This class includes two different baked desserts to help leaven your baking expertise!
Attendees will also enjoy a wine tasting of three local wines from the Massachusetts Wine Shop as they knead, mix, taste, and bake each scrumptious recipe.
Menu:
Goodnow Farms Chocolate Chip Brioche Rolls

Ginger and Goodnow Farms Chocolate Coffee Cake
Please email kitcheninfo@thetrustees.org to alert us to any food allergies.
About Baking School
Our hands-on baking classes are structured as a group learning experience; you'll work with other students to create a seasonal meal led by our professional chef instructors. We focus on learning new styles and techniques to increase your confidence and enjoyment in your own kitchen. Here are a few things to know before booking a class with us:

During each class, you will learn 2 recipes and work with between 2 and 4 other students to create each one.
Classes are usually between 2 and 2.5 hours long, unless otherwise noted.
Please be prepared to be on your feet, standing at a table, and cooking for the duration of class.
We recommend comfortable, non-slip, and closed-toe shoes.
Tickets: $64 for Trustees member and $79 for Non-Trustees Members. Members must bring their current member card and number. Join The Trustees and save! Members save between 20-40% off all classes in The KITCHEN.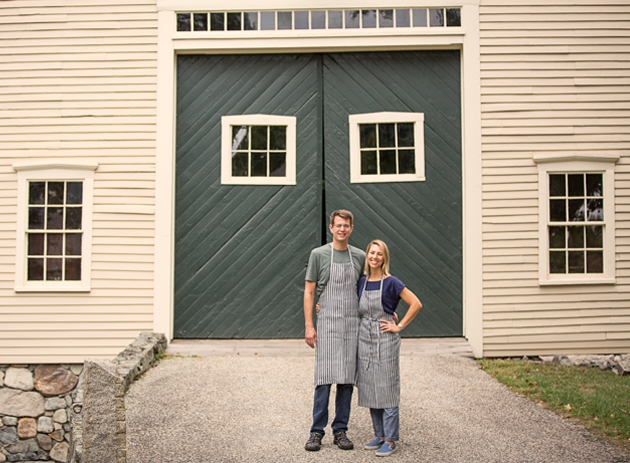 About Goodnow Farms
We're often asked "why single origin?" and the answer is simple – much like coffee, different cacao beans have different flavors. By using beans sourced from only one farm or region we're able to highlight the distinct flavor characteristics of that particular bean. Discovering those flavors is one of the joys of making (and eating!) single origin chocolate. All of our bars are made here at our 225 year old farm in Sudbury, Massachusetts. We start with cacao beans and sugar, and perform every step of the chocolate making process in-house, including carefully hand wrapping each bar. We believe that great chocolate is "true to the bean," in that the flavors apparent in the bar reflect the flavors hidden in the bean. The process of making this happen is extremely time consuming and labor intensive, but we believe the experience of eating our chocolate makes it all worthwhile.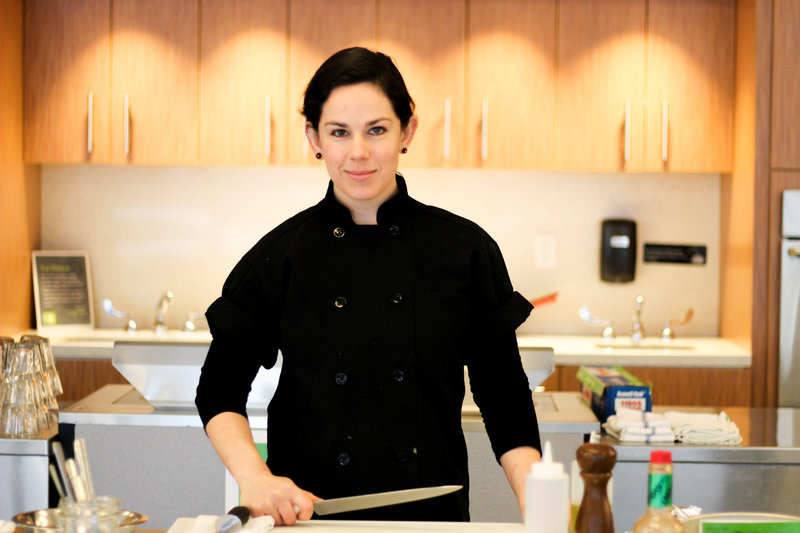 About Chef Cleo Bell
Cleo Bell is the Educaton and Operations Manager at the KITCHEN at the Boston Public Market. Cleo has a degree in Anthropology from McGill University and she has been cooking professionally for almost ten years in Washington, D.C., Maine, and Massachusetts. She gets her inspiration for new menus from the farmers and artisans at the Boston Public Market and she is passionate about teaching people how to cook using local ingredients, especially fruits and vegetables. She believes that in learning how to cook, we also learn how to better care for our bodies, our friends and families, and the environment.
About The Trustees and The KITCHEN
As one of the largest owners of agricultural land and the premier steward of the cultural and natural landscape of Massachusetts, The Trustees extends its leadership to transform the local food system by connecting residents and visitors back to the land and sharing the Commonwealth's collective agrarian heritage through innovative retail and educational experiences at the Boston Public Market in the heart of downtown Boston.
The KITCHEN is a community gathering place, managed by The Trustees, that is restoring the craft of seasonal cooking in Massachusetts, New England, and beyond through hands-on classes and educational experiences that celebrate the farmers and artisans of this region. Partnered with the Boston Public Market, The KITCHEN embraces a whole-food approach to eating and promotes cooking as an essential cornerstone of a sustainable food system.
Join the Trustees and recieve discounts on KITCHEN events. Join here.
Program Refunds/Cancellations: In the event that a program is cancelled due to severe weather, low enrollment, or other circumstances, we will notify you as soon as possible by email and issue you a full refund within 14 days of the cancellation. If you cannot attend a program as planned, contact kitcheninfo@thetrustees.org at least 7 days prior to the start of the program to receive a full refund. Refunds will not be granted for registration cancellations placed fewer than 7 days before the start of the program. There are no refunds for missed classes. The KITCHEN reserves the right to change program locations, schedules, or instructors when necessary.
Please note that the BPM Garage at 7 Sudbury St will be closed from September 29th, 2019 to October 19th, 2019, so on-site parking is unavailable during those periods. We apologize for the inconvenience. The nearest parking garage is the Government Center Garage: https://www.governmentcentergarage.com/parking-rates-hours.html