Event Information
Location
The Williamsburg Hotel
96 Wythe Avenue
Brooklyn, NY 11249
Kick off summer at the ultimate VIP Pop Up Experience with Bakermat on Saturday June 11th at the Williamsburg Hotel Pool.
About this event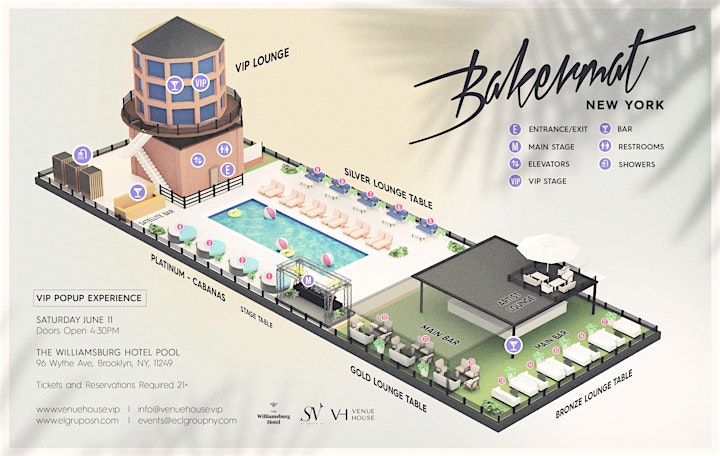 Enjoy the most incredible pool party with sounds by Bakermat at The Williamsburg Hotel in Brooklyn, NY on June 11th. Support DJ's to be announced!
EVENT DETAILS:
Arrive at the entrance of The Williamsburg Hotel at 96 Wythe Ave, Brooklyn, NY 11249. Follow signs for the event entrance. Doors open promptly at 4:30PM. Please ensure to arrive prior to 6PM to maximize your event experience and attend the headliners performance. Tickets or reservations required. Event is 21+.
TABLE RESERVATIONS:
All table guests are required to be at the venue by 6:30 PM. Table reservations include: All the benefits of a general admission ticket, private entrance and VIP Bottle Service with dedicated servers. Table minimums will be paid at the venue. The minimum does not include venue tax and gratuity.
Prices are subject to change based on availability and requests. When booking please refer to the venue map for specific table location. To make a reservation with one of our dedicated hosts email reservations@venuehouse.vip Please refer to the venue map found here bit.ly/bakermatnewyork for exact location of table.
VIP ADMISSION:
Maximize your event experience with Bucket Listers VIP Lounge Access! VIP Admission includes full access to the main event area along with private access to the Water Tower lounge featuring a private bar, special guest DJ performances, direct views overlooking the main stage artist (Bakermat) and breathtaking views of New York City's Skyline! Head over to BUCKET LISTERS to purchase VIP Tickets!
ABOUT THE ARTIST:
Original. That word would describe Bakermat's music best. It's the absolute main goal for the 26-year-old from Amsterdam to create music that isn't there yet. By combining genres that normally would never be combined, the Dutchman always surprises both his fans and colleagues. And although his productions are diverse, there is a key element that binds them all together: their feel-good sound. Simply put, his music makes people really happy.  
Besides music Bakermat often distinguishes himself with his live performances as well. Adding live-musicians at his performances and hosting his own concept 'Bakermat presents The Circus' he's shown that he is more than just a producer.
ABOUT THE ORGANIZERS:
Venue House connects event organizers with premium venues for all occasions. We curate the most exclusive venues to offer a range of one-of-a-kind experiences. Enjoy New York's first VIP Popup Activation curated by the Venue House team.
El Grupo SN is a New York-based hospitality company that develops, curates, owns and operates rooftops, bars and restaurants.
ABOUT THE VENUE:
The Williamsburg Hotel is the prime entertainment destination in all of Williamsburg. Experience a one day DJ performance at the rooftop of the Williamsburg Hotel Pool with sunshine, sunset skyline views, multiple bars serving al fresco drinks and more!
NEED HELP?
We want your experience to be amazing. Our concierge team is available to help with your event queries or provide assistance to your online experience. Please email info@venuehouse.vip for additional support.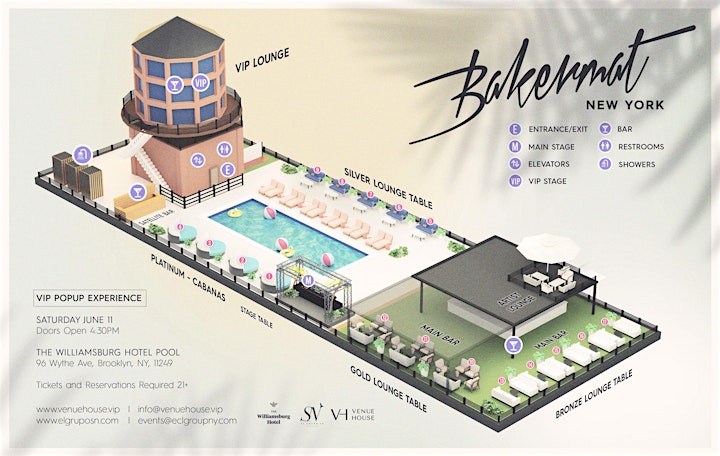 EVENT POLICY:
By purchasing a ticket, you are confirming that you received this policy and are agreeing to abide by the clauses within. This Event Policy is a binding contract between you and Venue House.
All sales are FINAL. Except as set forth herein, there are NO REFUNDS, NO CANCELLATIONS, no credits, no exchanges, and no transfers after purchase of a ticket.
Age Restrictions & ID:
You must present a valid Government Issued Photo Identification along with your ticket in order to gain entry to the event. If you do not have valid and proper identification indicating that you are at least 21 years of age, you will be denied entry to event without a refund.
Covid Policy:
No credit or refund will be issued as a result of the ticket purchaser or any person in the party contracting COVID-19 or a variant alike. By purchasing tickets to this event, you understand and agree that tickets are non-refundable and you are assuming the risk that you may not be able to use tickets purchased if you contract COVID-19 or variants alike. You further agree that you will not attend the event if you currently have symptoms of COVID-19, have been exposed to COVID-19 prior to attending and/or have tested positive for COVID-19 and have not completed the CDC recommended quarantine period. Be advised attendees may be required to show proof of vaccine and/or a negative test result. As the rules for events vary by location and change often, please check your local listing and respective government authorities for any applicable rules that may apply to you. You will not receive a refund if you are unable to attend an event due to any non-compliance with local rules, event guidelines, vaccine status, or failure to provide a negative test result.
Event Cancellations:
If the event is canceled you will receive a voucher for the rescheduled date.
No Refunds:
If you do not show up to the event, you understand that you are forfeiting your ticket(s) and therefore your ticketing fee (the entirety of what you paid) will not be returned to you. If you do not attend your event, you're still 100% financially liable for your purchase. If you cannot attend event, you will not receive refund.
Unforeseen circumstances beyond Venue House's control will not be grounds for a refund, including but not limited to the following: local or national weather conditions, natural disasters, waiting in lines, extended waits in lines, family emergencies, medical emergencies, employment issues including layoffs, traffic, parking, public or private transportation issues, etc. If you purchased for the incorrect date, location, event, etc, Venue House is not obligated to provide a refund, credit, exchange or transfer. Venue House, venue owners and management, security, event staff, and other agents of the event, have the right to refuse entry to any ticket-holder, without a refund, for any reason at their discretion, including but not limited to: disorderly behavior, failing to comply with the rules of the venue, incorrect attire, intoxication, venue capacity, breach of security, and other restrictions. Ticket-holder is aware that amenities promised by Venue House are not guaranteed, and are not grounds for a refund, including but not limited to: VIP amenities, drink specials, drink tickets, gifts, express entry, special areas, celebrity guests, etc. Dissatisfaction with any aspect of the event is not grounds for a refund, including but not limited to: music, DJ(s), decorations or lack thereof, party favors or lack thereof, beverages or lack thereof, alcohol selection, bar staff, food availability and selection, fellow patrons/attendees, venue staff, event staff, security, performances, ambiance, amenities, venue, check-in process, seating or lack of seating, wait in lines, emergency closures of event, emergency return of boats or yachts, delayed commencing of events, early ending of events, public amenities such as fireworks or public performances or the lack thereof, line of sight of public amenities such as fireworks or public performances being blocked by trees, buildings, boats, people, and/or other things, etc.
Release of Liability:
By purchasing the tickets through Venue House, you hereby release and forever discharge Venue House from any liability or claims for damages that may arise as a result of your attendance at, and voluntary participation in, the event(s), including claims for personal injury, or damage to personal property, or any other claims for negligence on the part of Venue House. By purchasing the tickets through Venue House for this event, you hereby release and forever discharge Venue House, and its officers and agents, from any liability or claims for damages that may arise as a result of your attendance and participation at the event(s). It is hereby understood that the purchase of tickets by you and your participation in the events shall not be construed as an assumption on the part of Venue House of responsibility, liability, or control of the events.
Indemnity:
By purchasing tickets for this event, ticket purchaser agrees to indemnify and hold harmless event Venue House, said entities officers, owners, employees, and agents, from and against all claims, damages, losses and expenses, including reasonable attorney's fees arising out of or by reason of complying with this Indemnity Clause. Ticket purchaser, their heirs, executors, administrators, successors and assigns, hereby release, remise, and forever discharge event Venue House and its entities owners, officers, employees and agents, from all manner of actions, causes of actions, suits, debts, judgments, executions, claims, demands whatsoever, known or unknown, in law or equity, which ticket-holder has ever had, now have, may have, or claim against Venue House.
Collections & Legal Action Against Debt:
Once you make a purchase, if those funds are removed from Venue House's account and given back to you, you owe Venue House that money back, plus applicable fees as outlined below. If you owe money to Venue House, Venue House reserves the right to take legal action against you and/or send you to collections for the recovery of said debt. If you are sent to collection or there is legal action taken against you, you are fiscally responsible for any and all legal costs and fees, directly associated and/or indirectly associated, with recovering the debt owed by you. Venue House's collection's agencies reserve the right to negatively affect your personal credit score until your debt is paid.
ASSUMPTION OF RISK: I understand that my attendance at the Event involves certain risks, including, but not limited to, serious injury and death. I understand that I am voluntarily attending the event with knowledge of the danger involved and agree to accept all risks of attendance.
Medical Authorization: I consent to administration of first aid and other medical treatment in the event of my injury or illness.
Use of Name and Likeness: I hereby expressly grant Venue House, its affiliated and subsidiary companies, any third party it authorizes, and to its and their respective employees, agents and assigns, the right to film and/or photograph me at the event and/or make recordings of the my voice, and the right to use pictures, silhouettes and othaer reproductions of my likeness (as the same may appear in any camera photograph and/or motion picture film) and/or recordings of my voice in and/or likeness in connection with Venue House, its related, affiliated and/or subsidiary companies.
Severability:
If any clause, aspect, part or provisions of this Event Policy is found to be null, void, illegal or otherwise unenforceable, the rest of this Event Policy remains in full binding effect, and the unenforceable provision(s) shall be deemed modified to the limited extent required to permit the enforcement of said clause that required modification and of the agreement as a whole.
Date and time
Location
The Williamsburg Hotel
96 Wythe Avenue
Brooklyn, NY 11249
Refund policy