Tokyo street artist BAKENEKO teams up with Seattle's Alchemy Poetry Series
About this event
After a #SOLDOUT opening night show, BAKENEKO's "SHARE THE LOVE" exhibition is teaming up with Alchemy Poetry Series on Tuesday, June 22nd at 6:30pm, for the Closing night of his Premier exhibition at City of Light Gallery.
Since his debut into the world of vandal art on the streets of Tokyo, Japan, BAKENEKO has gained thousands of followers and inspired fans around the world.
BAKENEKO's low-brow street art pop-up experience in Seattle is his first North American exhibition and the First exhibit at City of Light Gallery (Just 2 blocks from the international district).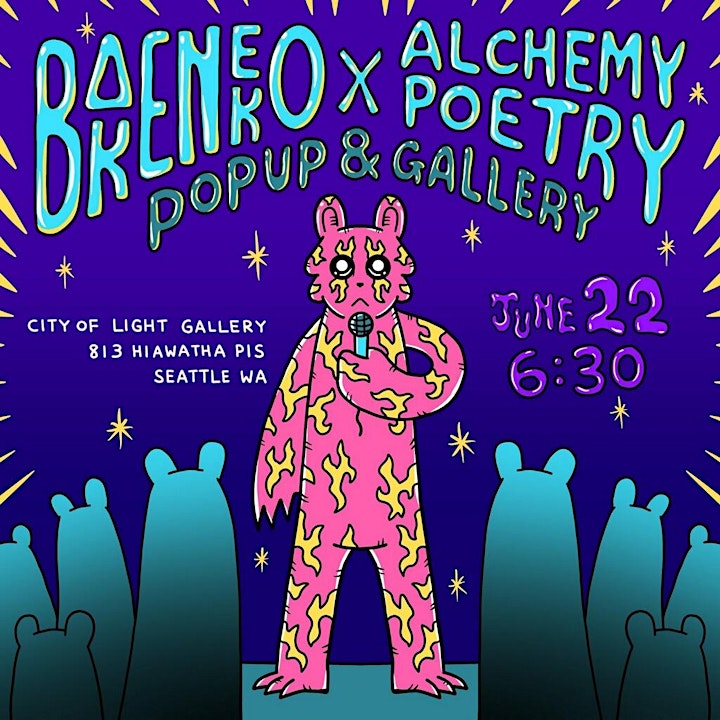 Alchemy is a curated performance art space that elevates voices that are often silenced. Performers in our community focus on the brilliance of storytelling by offering personal stories and reflections that are socially relevant.
Co-curated and produced by Ebo Barton & Ben Yisrael, Alchemy Poetry Series is unapologetic poetry rooted in the traditions of pioneers such as Gil Scott Heron, The Last Poets, and Nikki Giovanni.
Tuesday's night collaboration with BAKENEKO is Alchemy's first poetry reading of 2021 and the last time to meet Bakeneko on this Seattle Tour!
Experience an evening of BAKENEKO art, and the craft of poetry at its highest form.
BAKENEKO's "SHARE THE LOVE" X Alchemy Poetry Series